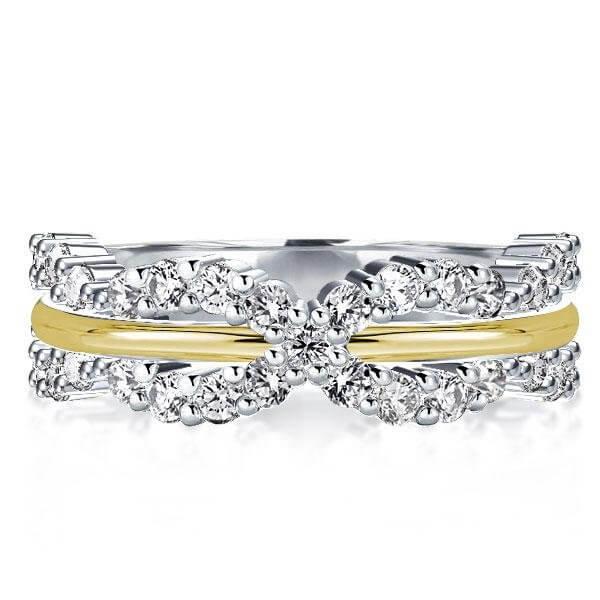 When it comes to picking your two tone wedding band one of the most important factors is selecting the color metal you like best. You would do this by picking the metal color you think works best against your skin tone taking into consideration your skin undertones. We also recommend looking at the jewelry you may currently wear and if there is one color in particular that you love then definitely opt for that color for you ring.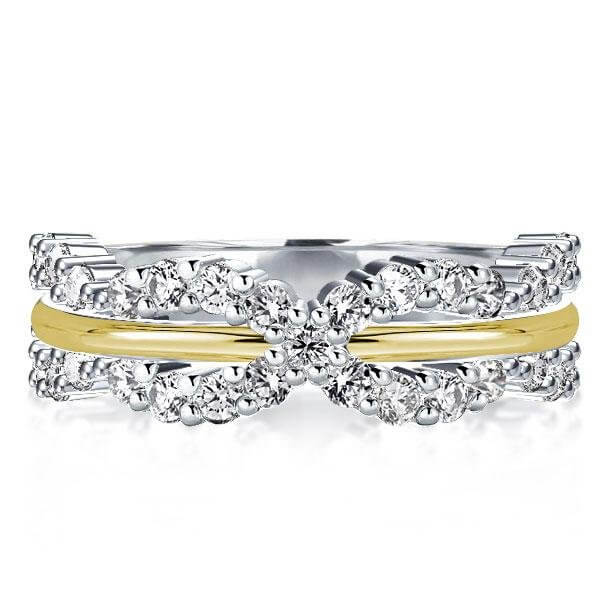 QUICK OVERVIEW ON METAL COLORS: White gold and platinum are the traditional choices and stand out significantly on most people's skin tones. Rose gold is a more subdued and understated metal color that tends to blend in well with most people's skin tone. Yellow gold because of it's bright sunshine color will stand out on most people's skin tone. Picking your favorite metal for the two tone wedding band is important since that is going to be your main wedding ring.
WHAT BAND WORKS BEST WITH YOUR RING? Many of our clients will select a thin delicate band for their two tone wedding band because it really lets the center stone pop. Now the tough part comes in when you start to match a wedding band with your engagement ring because ultimately adding on a wedding band next to your engagement ring is going to make the overall look of your ring a lot thicker. Most people would not mind this however if that is not your favorite look then we highly recommend opting for a different color wedding band than your engagement ring for a few reasons. Now if you love that matching cohesive look then that is great and it will work really well for you.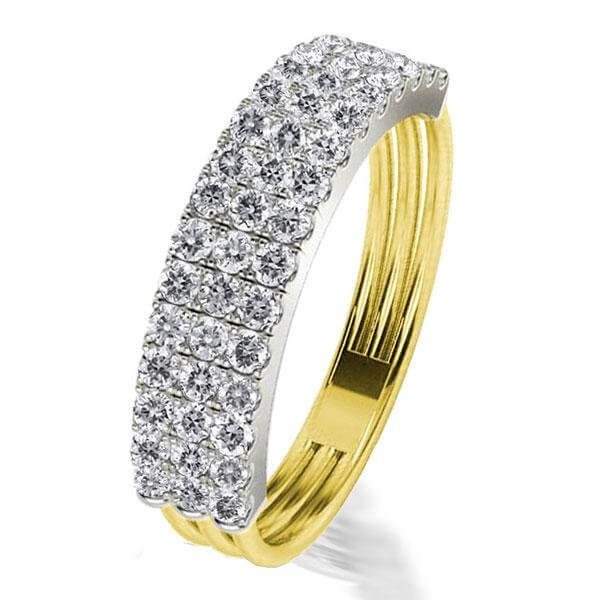 AS AN ALTERNATIVE: The contrast of the two colors will keep your individual two tone wedding band appearing thinner. Additionally because the bands are different colors you can really see which one is the engagement ring and which one is the wedding band. Essentially the extra differentiation will give you a fun colorful effect. We love the idea of mixing colors especially if you are someone who wears different color jewelry as well. This allows you to wear as many jewelry color metals as you like without feeling tied down to one shade specifically.
CONCLUSION There is truly no right or wrong answer to what band is the best band for you, the options are endless so we just want to make sure you explore every option that can work best for the look you are going for! We custom make wedding bands and have a huge selection of wedding bands available to view on our website.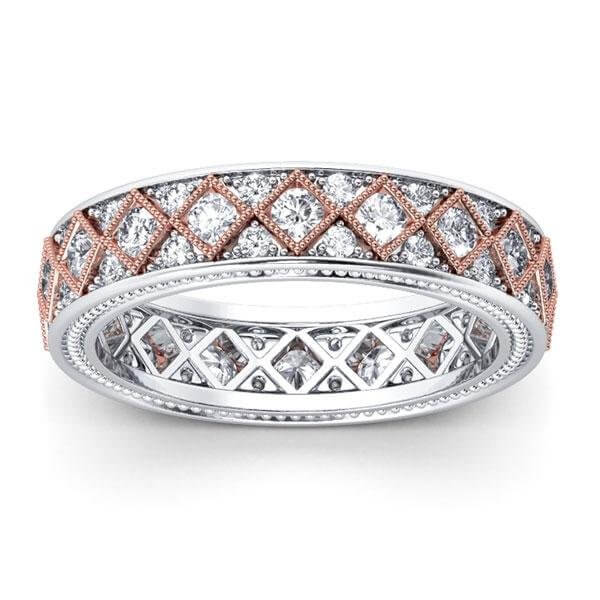 Please email or call us anytime with questions and we can schedule a consultation to look at various band options together. We have tons of styles to choose from and are confident you will be able to select something amazing!