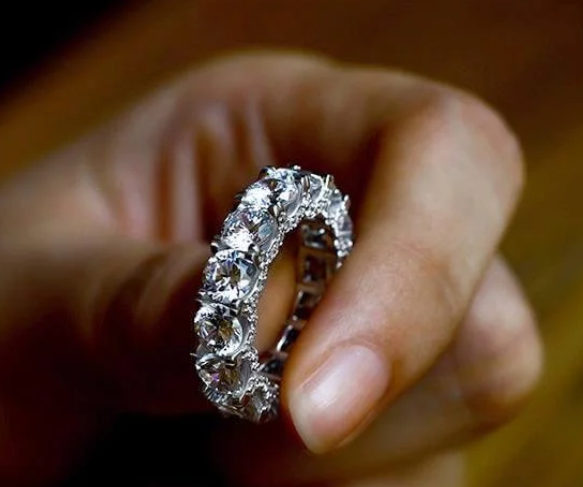 Wedding Ring: The Inspiration Behind Our Brilliant Eternity Round Wedding Band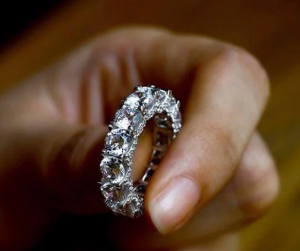 Our wedding band collection has quickly become one of our most popular. Since we first expanded our collection early last year we have heard from couple around the globe interested in purchasing our wedding bands. Some are looking for the perfect wedding band for their big day; others are replacing those they have worn for many years. In either case, we're honored to have the opportunity to help these couples select the perfect wedding band (or bands).
Once of our most popular sellers is this stunning 6.55 carat eternity band:
6.55 Carat Brilliant Round Eternity Band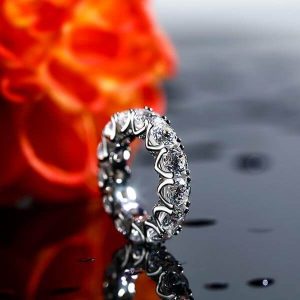 Meant to symbolize endless love, the eternity band has become a very popular trend in wedding jewelry. It's therefore no surprise that this brilliant 6.55 carat brilliant round wedding band is one of our best sellers. Adorned with 4.72 millimeter stones in shared-prong settings, this one is a showstopper. Available in 925 sterling silver, and is available in 925 sterling silver via special order, this ring can be customized to match any engagement ring. Get all the details.
If you're interested in learning more about this, or any of our wedding bands, feel free to contact us directly! We're always happy to explain our process and help you select the perfect wedding band. To learn what sets our wedding bands apart, be sure and check out this blog post:
Italo jewelry Difference: A Closer Look at How Our Jewelry is Made
For more tips and information on selecting a quality wedding band, we encourage you to follow our blog and subscribe to our newsletter in the right hand column of this page. Learn about our most popular products and get tips on selecting the perfect sapphier piece. While you're here, we also encourage you to read these recent related posts:
How Do I Know if I'm Getting the Very Best for My Money?
An Insider's Look at why Stones are Better than Diamonds