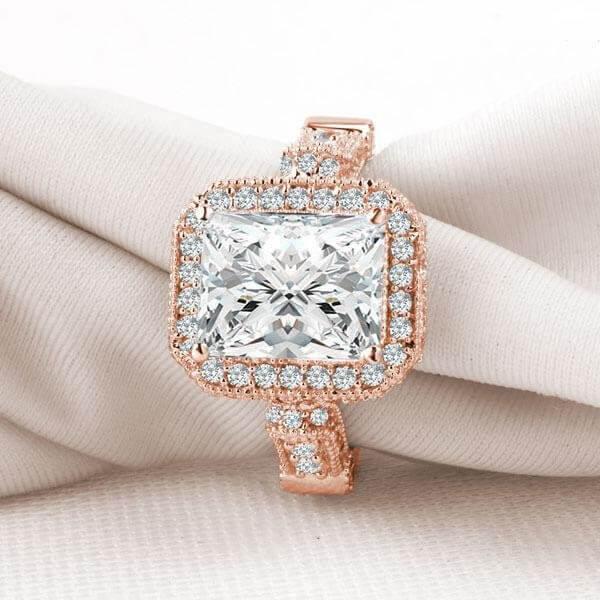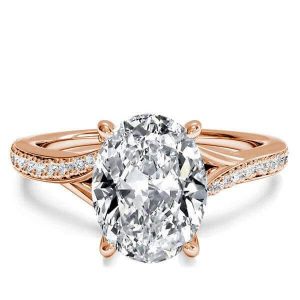 A favorite of trendsetters and romantics, rose gold engagement rings are an especially amorous choice. Created by alloying gold with copper, rose gold is considered one of the most romantic ring metal choices due to its pinkish-red color. This stand-out metal has been a favorite of many fashionistas in the past, but its popularity has skyrocketed in recent years. With a range of styles that will accentuate your diamond of choice, our collection of rose gold engagement ring will be sure to stun your special someone.
Italo Jewelry's Selection Of Rose Gold Engagement Rings
When you're browsing our collection, you'll find that most of our engagement rings are available in rose gold. This distinctive coloring makes each of our already special settings even more unique. Shop for rose gold bands in our Halo, Classic, Vintage, and Solitaire collections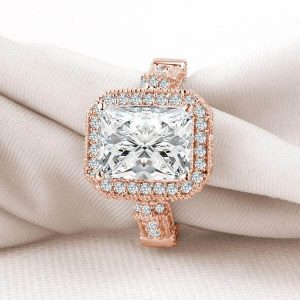 Tips For Buying Rose Gold Wedding Rings
Set Off Her Skin Tone — There's no need to worry about whether the unique color of rose gold will complement your love's skin. Rose gold highlights the blush undertones in almost every skin tone, ensuring your love will look beautiful no matter how how light or dark her skin is.
Downright Durable — Because rose gold is created from a combination of copper and gold, it has several interesting qualities. One of the most striking features, of course, is its pink coloring. But one of the most practical of its features is its durability; the strength of the copper makes these stunning rings stronger than yellow or white gold.
Before Making A Bold Choice — Most women will absolutely adore halo rose gold wedding rings. But before you make the leap and purchase one, check out your significant other's jewelry. Does she wear a lot of rose gold? Great—go ahead and take the plunge. Does she have gold and silver, but not a lick of rose gold or copper jewelry? Casually ask her opinion on it. Rose gold is not hypoallergenic, since it is infused with copper. If your loved one has sensitive skin or a known allergy to copper, she could experience an allergic reaction.
Rose for Romance — Any engagement ring is going to be romantic. After all, you are declaring undying love for someone. But the unique color of rose gold is even more romantic than your typical yellow or white gold—and is sure to make your bride-to-be blush with pleasure.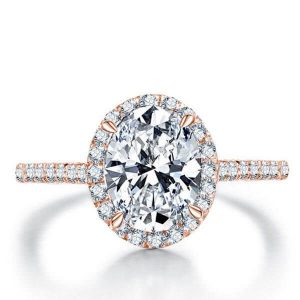 History of Rose Gold Engagement Rings 
Although it's certainly all the rage now, rose gold has been popular in the past, too.
Originally called "Russian gold" because of where it first appeared in the 1800s, rose gold really took off during the Victorian era, a time in
which romance was especially celebrated due to the public affection between English monarchs Victoria and Albert. Rose gold dipped in popularity until 1920, when Cartier began selling its its Trinity Ring, which incorporated yellow, white, and rose gold all in one piece.
A few other brief rises and falls in popularity eventually led to a comeback in the 1950s, when Audrey Hepburn's husband Mel Ferrer gifted the stylish star a stackable set of engagement and wedding rings in yellow, white, and rose gold.
Today, rose gold's popularity continues to rise. More and more people are purchasing rose gold jewelry—especially engagement rings, due to their romantic coloring.
Celebrities With Rose Gold Engagement Rings
Leighton Meester — The Gossip Girl star kept true to her classy character with her sleek rose gold engagement ring. A gift from husband Adam Brody, the cushion-cut diamond ring made news once it was finally sighted.
Hayden Panettiere — Reportedly designed in part by Hayden herself, Hayden's ring was a gift from boxer Wladimir Klitschko. The 6 carat, emerald-cut diamond sits on a split-shank rose gold band.
Alison Brie — Given to her by husband Dave Franco, Alison's rose gold engagement ring features an especially large sparkler. The ring highlights the round-cut diamond with double diamond halos set on a rose gold band—an eye-catching combination.