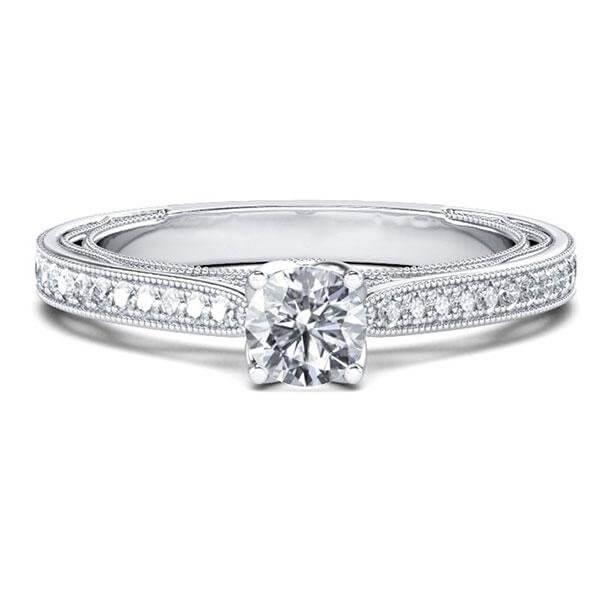 Classic or simple engagement rings silver styles
The common trait of simple engagement rings is that they blend seamlessly with a wearer's personal style and aren't too ostentatious. The most popular traditional engagement ring style, by far, is the solitaire engagement ring. A few other styles that have stood the test of time include four-prong settings, bands with diamond accent stones, princess-cut rings, pave diamonds, and the petite engagement ring. But which is right for you?
Sometimes when you see it, you know it. Sometimes you need to be a bit strategic. When selecting an engagement ring, think about the criteria that are most important to you. Do they include accent diamonds, metal color or band thickness? Once you've prioritized according to your personal style — and the four C's — it'll be easier to narrow down your options. And when it comes to simple, classic engagement rings , there are no shortage of beautiful choices.
SOLITAIRE ENGAGEMENT RINGS
Solitaire engagement rings are the go-to style in simple engagement rings silver. Here, the beauty of the center diamond is showcased in a simple yet striking band style. Solitaire engagement rings can be set with any diamond shape. The most common are round, princess, cushion and emerald, but the less conventional marquise, Asscher, radiant, or pear cuts can be stunning as well.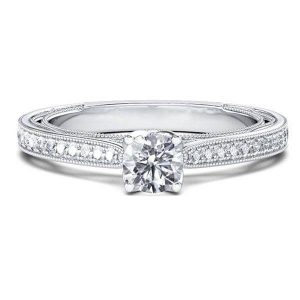 Settings for simple engagement rings
The band on simple engagement rings silver can be classic and smooth, or it can incorporate design elements like a twisting motif, cathedral windows, trellis openings or a split shank. Because solitaire engagement rings give the band such visual weight, it's important to select a metal that you truly love. Platinum and silver are most common; platinum is sturdier than silver (and more expensive). Gold has seen a resurgence in recent years, including the currently trendy rose gold, which has a pinkish coppery glow, and white gold, which has a bright silvery finish.
Top simple engagement rings silver
For such simple designs, you'll be surprised at how different classic engagement rings can look from one another. Below you'll find just some of our favorite setting and diamond combinations. But there are hundreds more if you look through our catalog.
An important note to remember while embarking on this journey to the perfect engagement ring is that engagement rings silver do not need to be extravagant in order to be beautiful and memorable. An engagement ring proposal in and of itself is incredibly meaningful, so you should not feel the need to knock your significant other's 'socks' off with an extravagant diamond engagement ring if you genuinely do not feel like that is something that they would be interested in. Having an affordable engagement ring is just as important as having a beautiful piece, and simplicity within an engagement ring is one way to appease both of those issues.