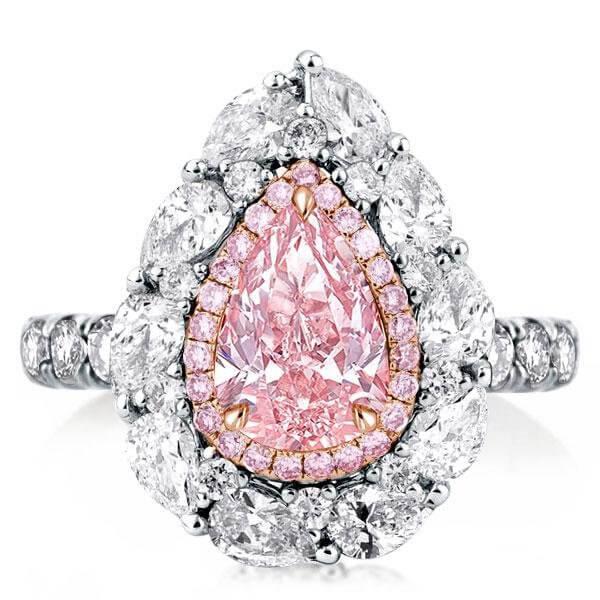 Also known as "teardrop-cut diamonds," pear-cut diamonds are named for their distinctive, unmistakable shape. One end of the diamond is rounded while the opposite end is sharply pointed, a marriage between a round brilliant and marquise shape. A perfect balance of traditional and cutting-edge, pear-cut diamonds are the perfect selection for a unique bride-to-be. Dramatic and striking, a pear-cut diamond will stand out in a solitaire setting or shine alongside accent diamonds in a vintage-style halo.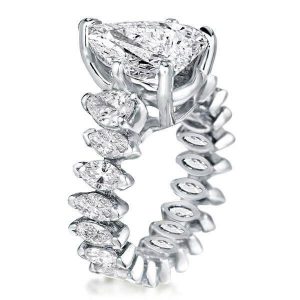 Clean Origin's Selection Of Pear Engagement Rings
Known for their versatility, pear-cut diamonds fit in well with any type of setting, looking elegant and sophisticated in a simple band, or dazzling and modern in a more intricate band. Whether your lady prefers jazzy jewelry or a more streamlined look, you'll find the perfect setting for her in our Halo, Classic, Vintage, or Solitaire collections.
Tips For Buying Pear Engagement Rings
Which Way? — When you're looking at the distinctive shape of a pear-cut diamond, you may wonder which way it's supposed to be worn. This depends on the lady! It's usually worn with the tip of the teardrop pointing toward the wearer's fingernails, but can be worn the opposite way. In recent years, pear-cut diamonds have even been set horizontally to create an avant-garde look.
Symmetry and Sparkle — There are a few things to double-check when you're deciding which diamond you'd like. When you're looking at a pear-cut diamond, the end point should fall exactly between the other side's rounded edges, which should be even. Your diamond should also sparkle like a round brilliant-cut diamond. With these two qualities confirmed, you'll be ready to give perfect pear engagement rings to your special someone.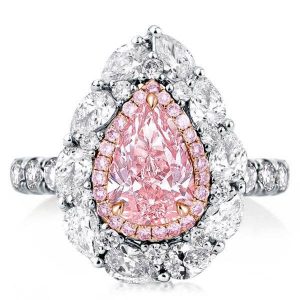 Beware the Bow Tie — Like most fancy cut diamonds, the pear-cut diamond has the tendency to show a bow tie imperfection, a shadow in the center of the diamond. This effect can be easily identified with a visual inspection by your jeweler, who will refer back to the certification report to ensure that any bow tie effect in your diamond matches its notation on your certificate.
Long or Wide — In the case of the pear-cut diamond, the ideal length-to-width ratio is about 1.4–1.7. Length is especially important, as a longer diamond can help elongate your woman's elegant finger. However, as with any diamond, the exact length-to-width ratio is up to your personal taste.