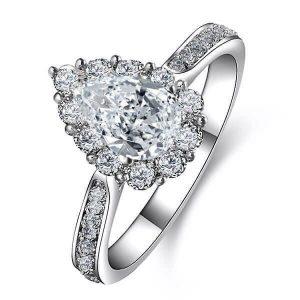 As one of the most on-trend looks of today, halo wedding rings are particularly impressive way to ask your special someone for her hand. This ring setting features a circle of small diamonds that surround a larger, center diamond. The effect can be simply breathtaking. Smaller sparklers enhance the majestic size of the center stone, adding some extra glamour—perfect for a lady who appreciates making a statement. Featuring everything from vintage to modern bands, our range of halo ring settings is sure to hold the perfect choice for your stand-out bride-to-be.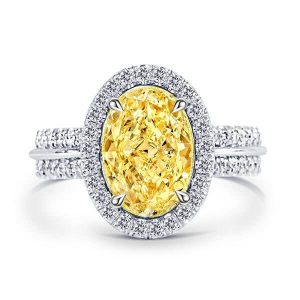 Clean Origin's Selection Of Halo Wedding Rings
Our extensive selection of halo engagement rings is sure to have something for your special someone. From vintage and intricate to sleek and modern, we've got it all. You'll find our halo bands within our Halo collection.
Tips For Buying Halo Wedding Rings
Pavé or Non-Pavé? — One of the main decisions you'll have to make is whether you want the small diamonds on her halo ring to encircle just the center diamond or to encircle the band as well—the pavé style. If you think your lady will want a minimalist look for her diamond engagement ring, forget the pavé. If she's interested in more glimmer, pavé is the way to go.
Center Stage — Because of the way the smaller diamonds encircle the larger diamond, halo wedding rings make the center stone look huge. And, because you're adding a lot of smaller diamonds, you're increasing the ring's carat weight without significantly raising the overall price; smaller diamonds are far less expensive than a single diamond of the same weight.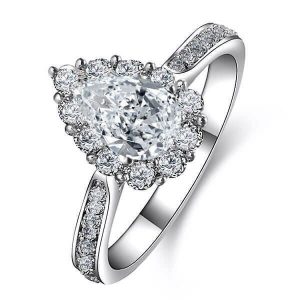 Shine On, Pretty Diamond — If you have a less-than-sparkling diamond, or if you have a flawless diamond that you want to highlight, a halo ring setting will up the glitter factor. Regardless of stone quality, adding tiny, light-catching diamonds will definitely make your love shine even more.
To Trend Or Not To Trend — Halos are one of the most popular diamond ring settings in existence right now. While they are a trend, this trend is becoming a movement that won't stop being gorgeous in a decade. Your loved one will always have a fond memory of the era in which the love of her life proposed.