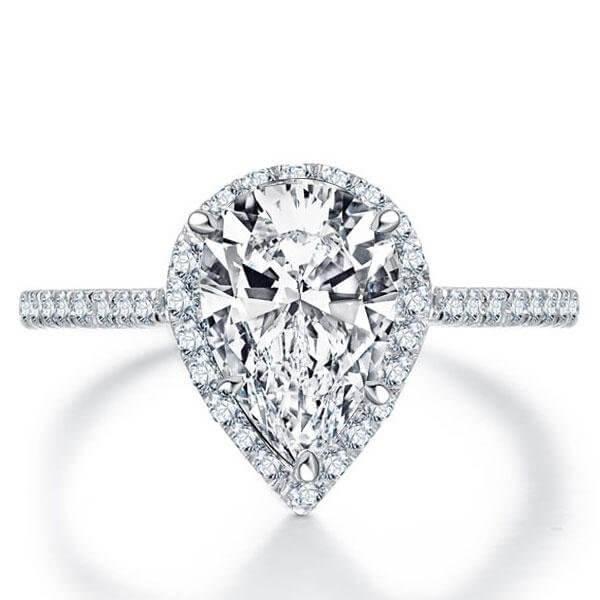 While round brilliant cut diamonds are still the most popular choice for engagement rings, more and more couples are searching for something that will set them apart from the crowd. A great way for your ring to stand out is by selecting a ring that features a unique cut or style. There are many different options when it comes to fancy cut diamonds and gemstones, but one shape in particular has recently seen a huge upsurge in popularity: the pear-cut. Pear cut engagement rings are all the rage right now.
But here's the deal:
Pear-cut engagement rings are nothing new! This fancy shape has been around for over 500 years. Engagement ring trends are always fluctuating, but right now, it seems the pear-cut engagement ring certainly has the spotlight. So why have they suddenly become so popular? Maybe Margot Robbie or Sophie Turner's pear-cut engagement rings helped jumpstart a new trend. Or it could have been Paris Hilton's recent engagement- have you seen her whopping 20-carat pear-cut ring?! Or maybe it's simply because of their undeniable beauty. Who knows? Whatever the reason, we're happy to see it's the pear-cut engagement ring's time to shine.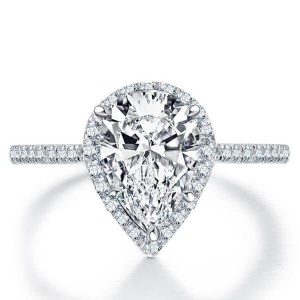 Try on different styles, check out loose diamonds, or maybe even consider a custom design! We're here to guide you in finding the pear cut engagement rings of your dreams.