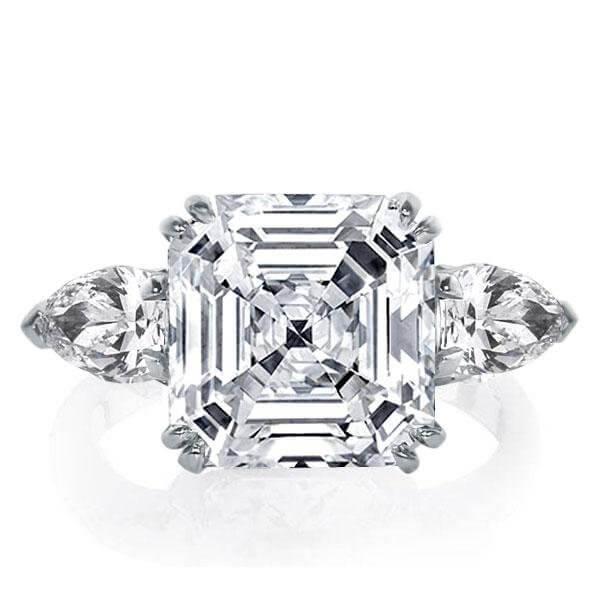 As we continue on our The Perfect Ring series, today we'll be learning and understanding one of the most on trend diamond rings: Asscher cut engagement rings. These fancy shaped diamonds first saw a rise to popularity during the Art Deco period of the 1920's, but the diamond shape has made a roaring comeback. The unique shape of Asscher cut diamonds results in showing remarkable diamond clarity, and therefore Asscher cut engagement rings require diamonds with a clarity grade that at least SI1. However, before we delve into the popular styles of Asscher cut engagement rings, we must first learn their history.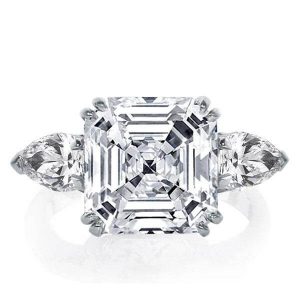 The History of Asscher Cut Diamonds
Developed in 1902, the Asscher cut is very similar to an emerald cut diamond. However, instead of being rectangular, the Asscher cut is square in shape. The geometric look of Asscher cut diamonds made them very popular during the Art Deco period during the 1920's and 1930's. The step cuts of an Asscher cut diamond create tiered facets that reflect light much like a mirror. Additionally, step cut diamonds emphasize diamond clarity. When shopping for Asscher cut diamonds, be sure to select a stone that has at least a SI1 clarity. Otherwise, the inclusions will reduce the diamond's sparkle. In recent years, the popularity of Asscher cut engagement rings skyrocketed once again. Engagement ring customers admire the unique style and flair of the diamond.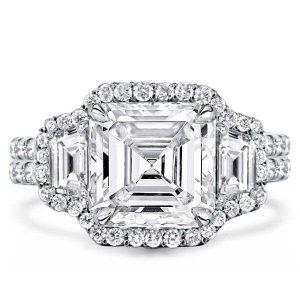 Our Favorite Asscher Cut Engagement Rings
Since Asscher cut engagement rings are so heavily tied to the Art Deco period, many people prefer to match this diamond with rose gold. Rose gold rings provide a pinkish hue that pairs exceptionally well with diamonds, especially those with higher clarity ratings. This makes rose gold and Asscher cut diamonds a perfect match.
Another popular Asscher cut engagement setting is the French Basket Setting with Diamonds 1/2 Down. This elegant ring is a more modern style that features diamonds that are pave set halfway down the band. Since Asscher cut engagement rings require a diamond with higher clarity, the diamond is rarely used with halo settings. Instead, the best way to increase sparkle and shine is to add additional diamonds to the band.