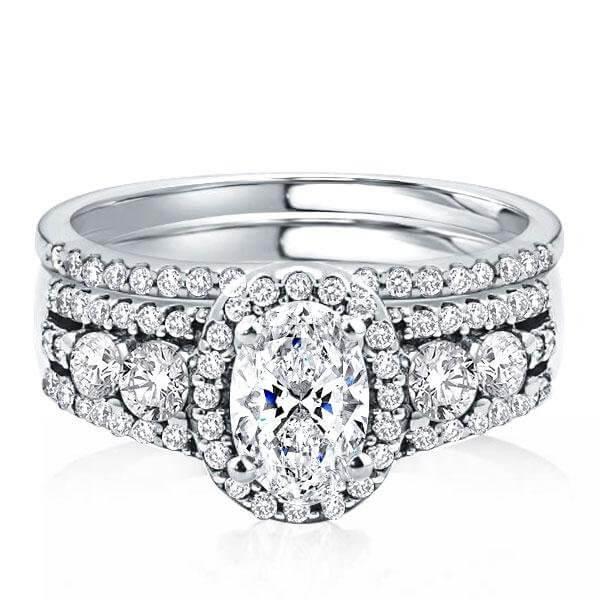 With all of these great ideas and inspiration in your pocket, it's time to get started in creating your own unique wedding rings sets combination that will take her breath away. These tips will help you create something that is both beautiful and sentimental – something that she can treasure always and is proud to wear every day.
Double Spray Unique Wedding Rings Sets
Consider Custom
It's a great idea to start your search by browsing the jewelry shops in your area or online to get ideas and see what's out there. You might luck out and find that the perfect piece is available and is yours for the taking. For other people, retail jewelry stores are great for gathering ideas, but they might not have "the one" when it comes to your unique wedding rings sets.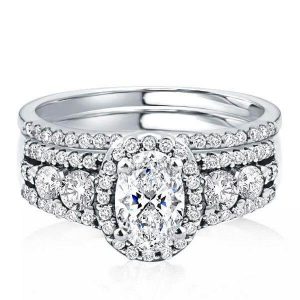 If you're looking for something that's very unique or elaborate, you might want to consider turning to a custom designed ring instead. When you work one-on-one with a jewelry designer, you'll be able to communicate more personal details about your bride-to-be, what her style is, and how you'd like the rings to look. A professional jewelry designer is experienced in taking people's ideas and turning them into reality, so this is definitely an option to consider if you're looking for something that you can't find in stores or want to add special significance to your rings.
Think Long Term
Many people purchase their wedding stacks and wear them as-is forever, while others love the idea of upgrading their rings over time. You might be starting out on a more modest budget in the beginning, or you might have simpler tastes that mature over time – whatever the reason, keep it in mind that you might want to upgrade your rings over the years. For example, can you add an upper band of pavé diamonds for an anniversary gift? This creates a striking stacked ring look while also making a fantastic gift idea for a special, romantic occasion.
Up the Sparkle Factor
Of course, every woman is unique, but it's safe to say that a few extra diamonds are always welcome. When choosing your unique wedding rings sets, try to see if there are any ways to sneak some extra stones into the design, or maybe add a thin band of baguettes or round-cut diamonds to increase the sparkle. More often than not, this kind of upgrade is well worth it when you see her proudly showing off the brilliant wedding rings that you chose for her to wear.
Take Home Message
Shopping for unique wedding rings sets is one of life's most exciting and romantic experiences. Taking the time to create a unique pairing is a worthwhile investment, as it's something she'll love and wear every day. With these buying tips and unique wedding ring inspiration ideas, you'll have no trouble picking out the perfect pieces for your bride-to-be.
Let her personality and your own love story shine through with a design that's outside of what everyone else does. Unique rings make your wedding day and your life together even more special, especially in knowing that no one else has the same ring combination that the two of you do. Pushing the envelope with interesting and unique ring designs will result in beautiful unique wedding rings sets that will stand out andlast a lifetime!