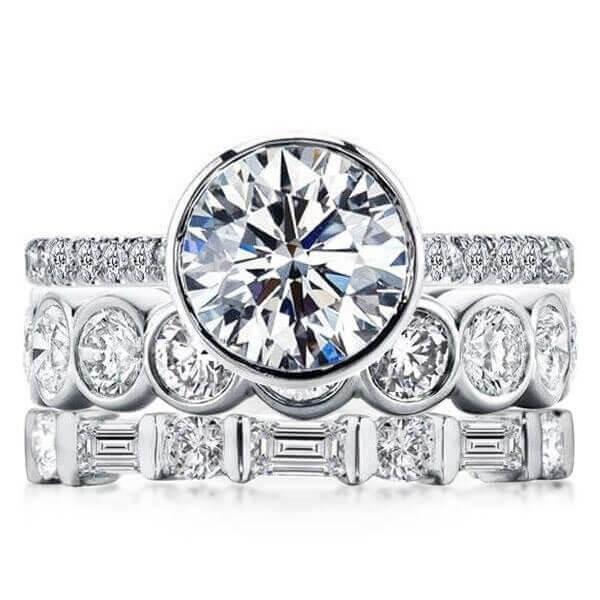 Home » Affordable Wedding Rings Sets
Ah, the wedding ring. It's the one piece of jewelry that's supposed to encompass all the feelings you have for the person you love most in the world, the one item you're supposed to wear every single day until you die.
No pressure or anything.
Needless to say, selecting a wedding ring can be challenging, and there are endless options, metals, designs, and additions you can make. And it can be expensive, too: The average American couple spent $1,000 on the bride's wedding ring band in 2013, and another $500 on the groom's.
The good news is that there are a surprising number of affordable wedding ring sets options — so many, in fact, that I wish I'd written this post six years ago before I got married.
I wear my great-grandmother's ring as an wedding engagement rings, and my husband purchased a pretty pricey wedding ring to match it. I love my wedding set, but looking at all the options below, I know there are many more choices for brides today that are just as beautiful and far more affordable.
Tips to Find Wedding Bands Within Your Budget
Before deciding on a wedding ring, there are a few things you should do first:
Know your budget: All the costs surrounding a wedding can be completely overwhelming, but you don't want to forget about adding a wedding ring to your budget. After all, that's a pretty important part of it! Take a look at your cash flow and your projected costs for your wedding. Figure out what you can afford to spend from your savings (because financing a wedding ring isn't the best option) and then go from there. Once you know your price point, you can see what types of rings fit into that budget.
Compare prices: There are so many retailers that sell wedding rings, from handmade sellers on Italo to big stores like Wal-Mart and Amazon. Price compare everywhere and as much as possible. Don't forget to factor in other costs like sales tax, shipping, return shipping, and shipping insurance should you require it.
Read reviews: A ring might start out great, but will it last over time? After all, even 25-cent rings from the grocery store look pretty cute on the first day. Ask yourself, "What are the most durable metals?" These are all answers you can find through reading reviews and doing research. Some metals, like sterling silver, require more polishing and upkeep to look shiny and bright — but if you don't mind that, you can find some gorgeous wedding bands for a fraction of the price of more precious metals.
Check the return policy: You do not want to be locked into your wedding ring purchase, so get one that has a very generous return policy (and I don't mean a seven-day return policy.) You need to make sure your fiance and you like your rings and especially like the fit of the ring. You also need to make sure no stones fall out and that it looks as you hoped it would in person if you ordered it online. Even if you are madly in love with a ring online, you shouldn't purchase it if there isn't a good return policy, because you never know for sure about the quality until you actually get it.
Affordable Wedding Rings
To help you with this process, I've searched high and low for some of the most beautiful and affordable wedding rings around. Even better, all the affordable wedding ring options below were selected for their high quality and great reviews and range in price from completely free to about $150.
I don't want you to think all the rings below are cheap wedding rings sets or boring because of their low price. Rather, some of these wedding rings are so unique and eye-catching, it makes me want to get a new one!
Option 1: Use a Family Ring
Cost: Free
Of course, the best price for a wedding ring is totally free. Family heirloom rings are a great way to honor your loved ones and add a touch of tradition to your wedding, all while saving your valuable cash. Remember, there's no law that says your ring has to match your spouse's ring. Stay open-minded, and ask your family members if they have rings from older generations.
Option 2: Try Titanium
Cost: $58.45
This titanium ring is marketed as a men's ring, but at just three millimeters, it would make a great women's ring, too — that is, unless your lady wants some bling. If she does, I'd recommend this titanium wedding ring that is also only around $58.45 with gorgeous sapphier-simulated stones on the band.
Titanium is lustrous, lightweight, hypoallergenic, corrosion- and scratch-resistant — and extremely strong. So strong, in fact, that you may have heard rumors that it's impossible to cut off a titanium ring in an emergency. However, that myth is untrue.
Still, a titanium wedding ring is by no means easy to remove — it requires a diamond saw or other special tools — and bear in mind that re-sizing one is pretty much impossible.
CLASSIC BEZEL CREATED WHITE SAPPHIRE STACKABLE BAND SET (8.91 CT. TW.)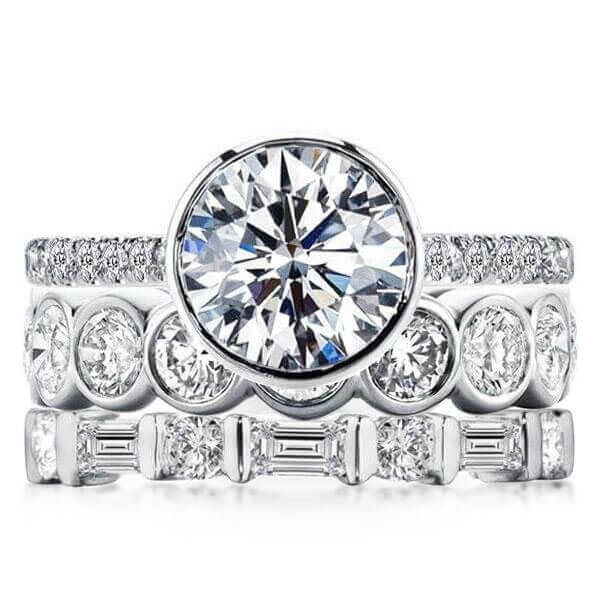 Cost: $149.56
I'd have never thought you could get a gold and diamond ring for just over $100, but evidently you can. With plenty of happy customer reviews, this lovely ring set appears to be a great buy.
Option 4: Art Deco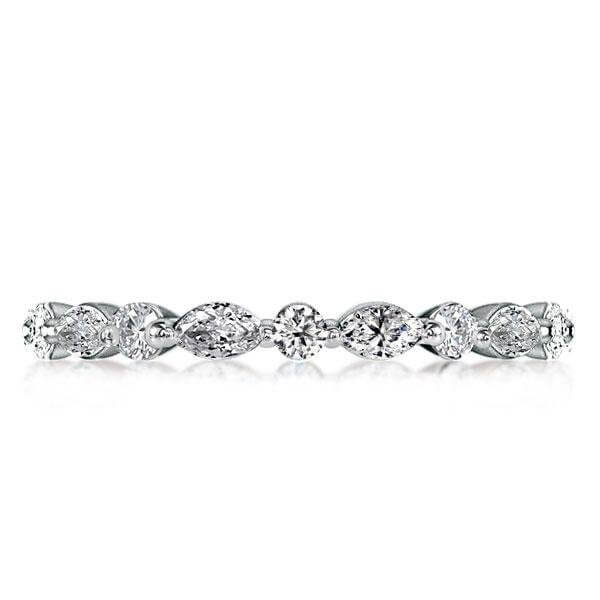 Cost: $104.92
If you love art deco style, then you'll love this beautiful and elegant rose gold-plated wedding band. It's perfect for those who love a vintage look but don't have their grandmother's ring to wear. The shop that makes it, ITALOJEWELRY, has a reassuring 560 five-star reviews. They sell a sterling silver version.
Option 5: Yellow Gold With Three Diamonds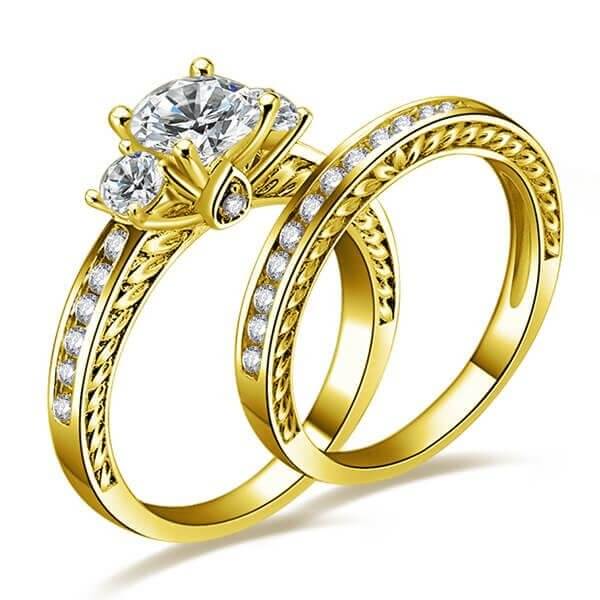 Cost: $121.58
If you don't want a ring that's too flashy but still has a little bit of sparkle, you'll love this yellow gold wedding band with three small diamonds. It has over 40 positive reviews and has just the perfect amount of sparkle without being over the top.
If your love wrote you a thoughtful note while you were dating, or if a particular word holds special meaning to you both, you can have that phrase or any other words that will fit imprinted on this customized, recycled-silver wedding band in your own writing.
Choose your favorite quote, you signatures, or just a date or phrase that means something special to the two of you. With over 4,000 positive reviews, this Italo seller, Italojerwlery, has had many happy customers.
Wait for sales and coupons: Follow your favorite jewelry stores both online and in the person. Wait for sales during the holidays, and look year round. You might get a better price in January than you would in December since jewelry is also a popular holiday gift and sales are typically quite slow in January.
Be open-minded about the metal: There are so many new types of metal for jewelry these days, from gold to silver to stainless steel to titanium. Be open-minded. You might think you only want a platinum ring and then fall in love with one that is much less expensive. Try not to get caught up in what you're expected to buy and instead enjoy picking out a wedding ring you love the most.
Make a cash offer: One of the benefits of buying a wedding ring in the store is that you can offer to pay cash. Typically, if you offer to pay cash instead of financing it, the store will be more willing to be flexible on the price because they know they are getting paid all in one lump sum.
A Final Note
I know there's a lot of pressure to find the perfect wedding ring, but really, it's not so much about the ring as what the ring represents: A union between two people who truly love each other.
Also, a wedding ring is not a reason to go into debt, especially when there are so many options like the ones above that cost as much as one meal out. My advice is to keep looking, do your research, be flexible, and you will definitely find a wedding ring that you'll absolutely love not only on your wedding day but for many years to come.