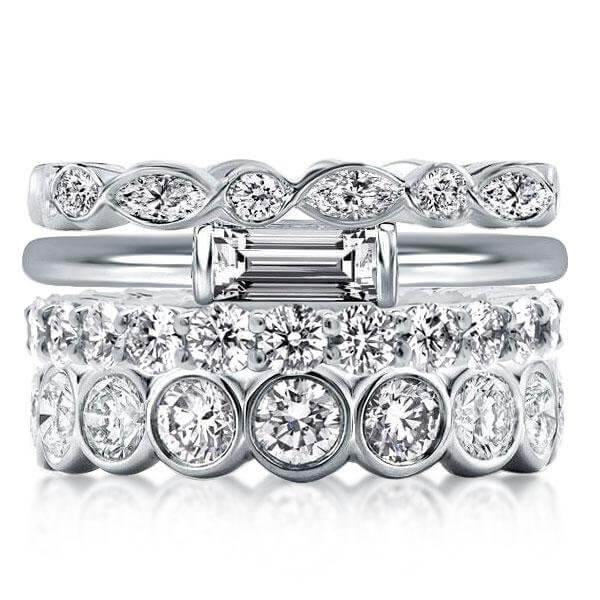 Did you know that our white sapphier stackable band set is not only wedding rings, but fashion bands too? At Italo, we have a collection of modern sapphier stackable wedding bands and fashion bands in rose, silver, and yellow gold metals! Our stackables are great for mixing metals and styles, but also pair perfectly with our collection of sapphier engagement rings. Whether you're interested in stacking or matching, Italo has a style and metal for everyone!
Today we're talking all about Italo's favorite stackable bands! We're mixing metals and styles from these geometric designs to the floral inspired bands. Make a bold choice this season that'll have you sparkling brighter than ever before. We're stacking bands instead of books for back to school with our best selling pieces – keep reading to see which style is your favorite!
TRIPLE ROW ETERNITY CREATED WHITE SAPPHIRE STACKABLE BAND SET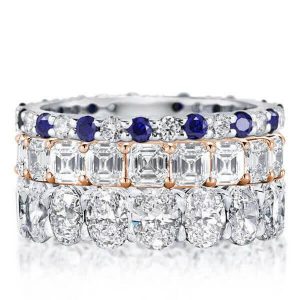 This unique, geometric stackable wedding band comes in three different colors: rose, white & blue and white! The triple row stackable band set features a mix of shapes (circles and triangles) with different sizes of dazzling diamonds in bezel settings accented with milgrain edging. This unique combination of designs, make for a stackable wedding band that is both a trendsetter and a perfect match for your engagement ring! When stacked with multiple stackable bands of different styles and metals it transforms into the fashion statement you've been waiting for! The total weight of this stackable band set is 47.05 CT. TW.
HALO TWO TONE ETERNITY CREATED WHITE SAPPHIRE STACKABLE BAND SET (8.52 CT. TW.)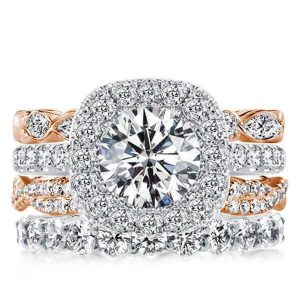 This engagement ring/stackable wedding band set is nothing short of gorgeous! With a single round of dazzling diamonds, this 2 carat round engagement ring compliments its counterpart so well. The stackable wedding band features round cut diamonds in bow tie shapes with milgrain edging.
The wedding ring is a fascinating addition to the engagement ring! Dating back to the Romans, the stackable wedding band specifically was worn because it was said that there was a vein in the left hand ring finger that led straight to the heart. They say to always keep your wedding band close to your heart so the tradition stuck!
CLASSIC TRIPLE ROW ETERNITY CREATED WHITE SAPPHIRE STACKABLE BAND SET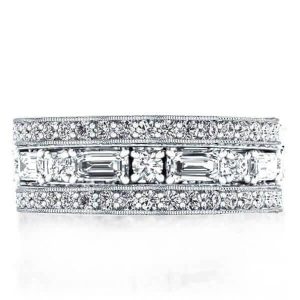 We're focusing on the beautiful birthstone, Sapphire! This stackable wedding band set is to die for! We love all the different shapes and accents of the sapphire and diamonds. This chic set features vintage inspired milgrain edging in 925 sterling silver.
The stackable wedding band features alternating Emerald& Round shapes with sapphires and dazzling diamonds. Pair this with these other stackables or mixed metals for a trendy look!
This band set a vintage inspired stackable wedding band featuring edging with alternating marquise and round shapes. The blue sapphires and brilliant diamonds compliment the 925 sterling silver perfectly.
This modern stackable wedding band features mixed shaped diamonds alternating in rectangular and round shapes that form the perfect mix and match look!
ITALO FOUR ROW ETERNITY CREATED WHITE SAPPHIRE STACKABLE BAND SET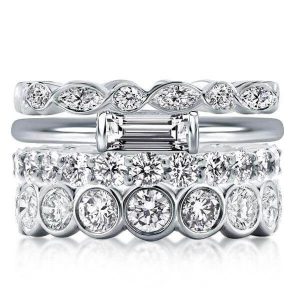 This beautiful set is such a great example of mix and matching stackable styles! In this group, there are so many different designs and elements that create that mix and match look that makes a stackable stand out! Here we have the Round &Baguette & Marquise! This set comes in all different styles and metals which makes it completely customizable!
The Round two pieces are the modern stackable wedding band features mixed shaped diamonds alternating in different style that make for a stand out piece perfect for matching with your engagement ring or mixing with another stackable fashion band!
The Marquise is a stunning floral inspired yellow gold wedding band features round diamonds surrounded by floral inspired details on each side. Such a sweet and feminine touch that would look great as a fashion band jewelry piece!
This modern baguette stackable wedding band is full of surprises. Such a great piece for pairing with your engagement ring because of its dainty yet glamorous look!
SOLITAIRE ETERNITY CREATED WHITE SAPPHIRE 3PC WEDDING SET (9.20 CT. TW.)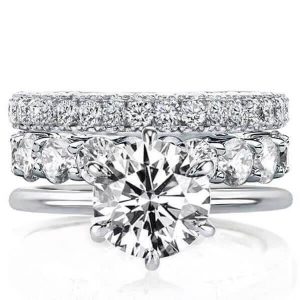 This gorgeous round solitaire engagement ring features stunning diamonds in a six shared prongs setting that trail down the band. Pair it with it's matching stackable wedding band for a mixed metal trendy stylish look!
This new wedding ring trend is all about the stackable wedding bands! Italo brides are now stacking and matching all different types of styles, settings, cuts, shapes, and metals! This is how we stack and match our stackable wedding bands, but how would you do it?
The bands are gorgeous stackable wedding bands that features stunning diamonds that sit in a single prong setting. A perfect compliment to any Italo engagement ring!
For more information about these beautiful stackable wedding bands, please visit our website.