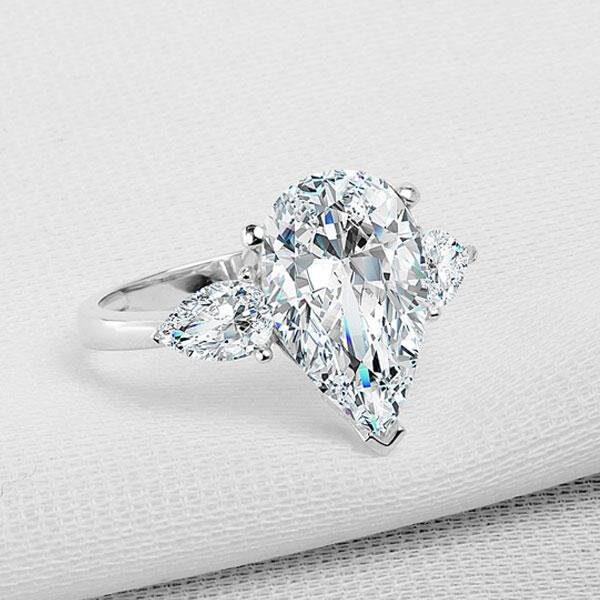 Pear Halo Sapphier – the only part of your engagement you'll want to go pear shaped!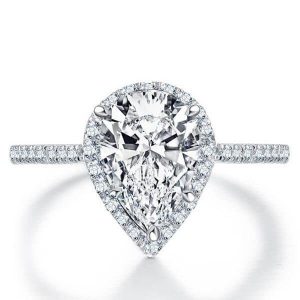 Imagine if Eve had picked a pear in the Garden of Eden instead of that darn apple. She would've stood out from all the other women (had there been any other women) and been hailed a trendsetter. Still, it's never too late to make amends and pear shaped diamonds are the perfect sparkle offering.
Pear Shaped Diamonds: Ripe for the Picking
So, what makes a pear a pear? The unique shape is achieved by combining two other diamond cuts: round brilliant and marquise. At one end, you have the gentle curves of a round cut; at the other, the pointed charm of a marquise. Best of all, it retains much of the sparkle of a round cut, despite not conforming exactly to that shape.
Grab yourself a piece of this low-hanging fruit!
A Diamond Beyond Compear
If further pearsuasion is needed, choosing a non-traditional diamond shape like pear can actually save you money! That's right; because demand for pear is lower than for round brilliant, it tends to offer better value. A pear shaped diamond could save you as much as 25% compared to a round cut of the same size and quality. How sweet is that?!
Hot take: Pair your pear with a solitaire for a classic setting that's both affordable and offers maximum light return through the top of the stone.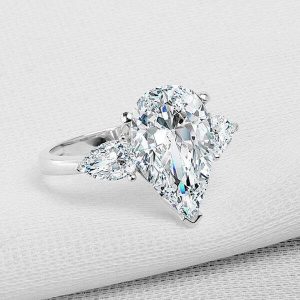 THREE STONE PEAR CREATED WHITE SAPPHIRE ENGAGEMENT RING
Pear to Spare
Thanks to their elongated lines, pear halo engagement ring tend to look larger than other shapes of the same carat weight. On the hand, they gently accentuate slender fingers and make shorter fingers appear longer and slimmer.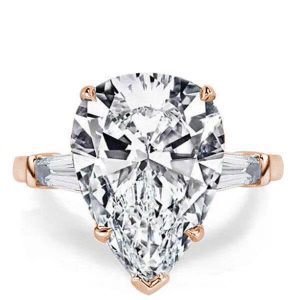 ROSE GOLD THREE STONE PEAR CREATED WHITE SAPPHIRE ENGAGEMENT RING
2018 is shaping up to be the year of the pear! Paris Hilton (or should that be Pearis Hilton?) got the party started back in January when she said yes to a juicy 20-carat pear shaped diamond engagement ring. Of course, she's not alone in her penchant for pear. Other pearsonalities include Ariana Grande, Kaley Cuoco, Cardi B, Sophie Turner, Victoria Beckham, Zoe Saldana, Katherine Heigl, and Margot Robbie.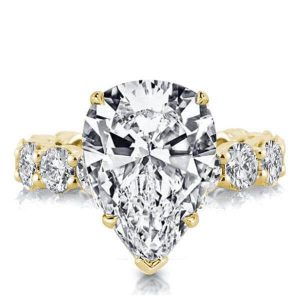 GOLDEN PEAR ETERNITY CREATED WHITE SAPPHIRE ENGAGEMENT RING
See which other non-traditional diamond shapes are in with celebs right now.
What to Know about Pear Shaped Diamonds
When purchasing a pear shaped diamond, it helps to know which attributes to look out for. That way, you can avoid pulling an Eve and picking the wrong piece!
Cut – To minimize the undesirable 'bow tie' effect commonly found in pear shaped diamonds, ensure the diamond cut is as symmetrical as possible. It's more aesthetic plus it returns more light and sparkle back to your eyes.
Color – The pointed end of the diamond doesn't reflect light nearly as well as the round part, so it's more likely to reveal the stone's true color. To avoid those 'warmer' yellow tones, opt for a high grade on the color scale (no lower than G).
Clarity – As with color, any inclusions are more visible if they occur at the pointed end of the diamond, where there's less sparkle and scintillation. You're better off going for an 'eye clean' diamond with a clarity grade of VS2 or above.
Carat – The carat weight you choose will largely depend on your budget, but this is not the be-all and end-all. An increase in carat size will often appear negligible, yet raise the price significantly. Far more important are cut, color, and clarity in determining a diamond's overall beauty.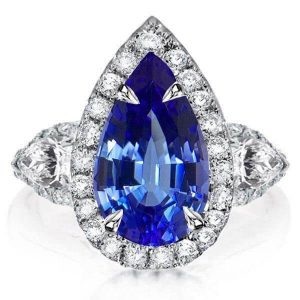 PEAR HALO THREE STONE CREATED SAPPHIRE ENGAGEMENT RING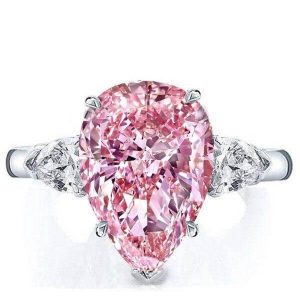 THREE STONE PEAR CREATED PINK SAPPHIRE ENGAGEMENT RING