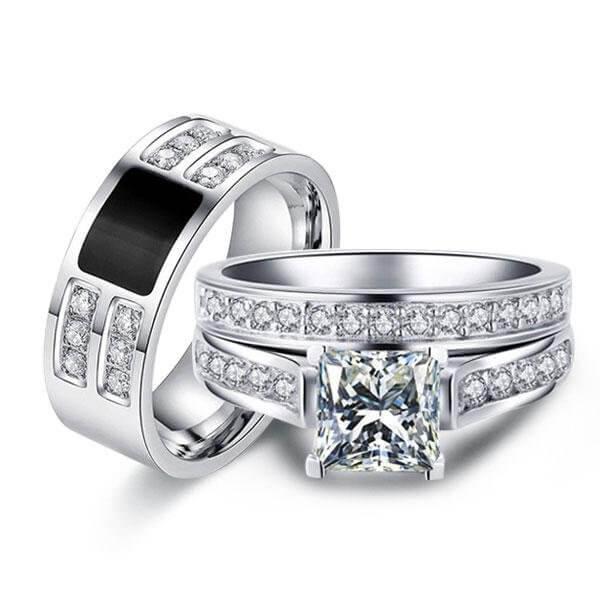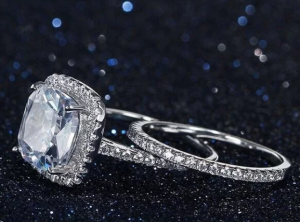 If you're engaged and getting married, it is time to start thinking about your wedding bands.
When it comes to getting engaged and getting married, one of the most important aspects people focus on is the engagement ring, and the wedding ring comes in later, when the planning of the wedding is in full swing. You'll need to find the perfect men's diamond wedding ring and/or women's wedding rings that you and your partner will comfortably wear for the rest of your lives. However, you need to decide whether you want a bridal ring set or a wedding ring set before you purchase one.
WHAT IS THE WEDDING RING SETS?
A wedding ring set has three matching rings - an engagement ring that matches the style of the bride and groom's wedding bands. Most reputable jewellers sell wedding rings and engagement rings as a set so that they look stylish when they're worn together, and the other matching wedding ring can be purchased alongside it.
WHAT IS THE DIFFERENCE BETWEEN A BRIDAL RING SET AND WEDDING RING SET?
A bridal ring set is the engagement ring that is sold with a matching wedding ring, for the person who has been proposed to. A bridal ring set does not come with a third ring. The proposer (the bride or groom) gets to choose their own wedding ring if the proposee has a bridal ring set.
WHAT HAND DO WE WEAR A WEDDING RING ON?
Once you have said "i do" and are officially married, tradition dictates that the wedding ring should be worn on the fourth finger of your left hand. This is because it was believed that the fourth finger of the left hand had the "vena amoris" which is Latin for "vein of love". The vena amoris was believed to be a vein that ran directly from the ring finger of the left hand to the heart. Find out more about wedding superstitions and myths here.
SHOULD WE GET OUR WEDDING RINGS ENGRAVED?
Whether you choose to get a wedding ring set or a bridal set, there is the option of engraving your wedding rings. Whether it is a men's wedding ring or women's wedding ring, they do not have to be plain. You should think about what you want engraved on your wedding rings and where you would like it. Find out more about what to consider if you want your wedding rings engraved, here.
iTALO'S FAVOURITE BRIDAL RING SETS
CLASSIC SOLITAIRE PAVE SETTING CREATED WHITE SAPPHIRE BRIDAL SET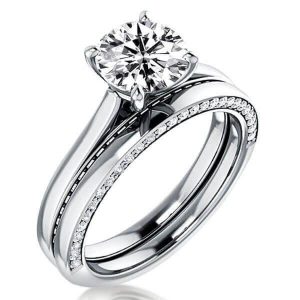 This stunning round-cut diamond with sapphire shoulders is the perfect engagement ring for those who want to combine elegance with sparkle and shine. The brilliant round sapphire sits in a four prong setting, and the round sapphire in the wedding band sparkle in their channel setting. You can customize it to yellow gold, white gold, rose gold.
SEVEN STONE OVAL CREATED WHITE SAPPHIRE 3PC WEDDING SET (3.90 CT. TW.)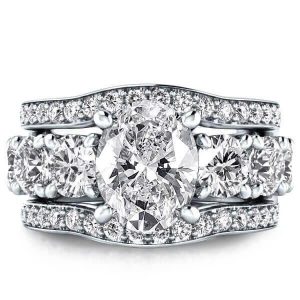 For those after something striking, this pave set Sapphire engagement ring and sapphire wedding band will certainly do the drink. The oval cut sapphire sits in a beautiful halo of sapphire . The curved detail of the sapphire wedding ring makes it the perfect fit for this beautiful halo engagement ring with shoulder detail.
ITALO CLASSIC CREATED WHITE SAPPHIRE TRIO MATCHING WEDDING SET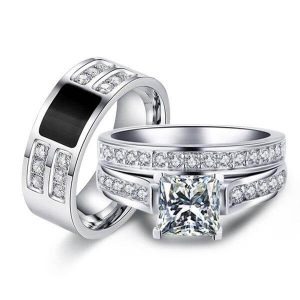 A  wedding ring set has three matching rings - a princess cut engagement ring that matches the style of the bride and groom's wedding bands.