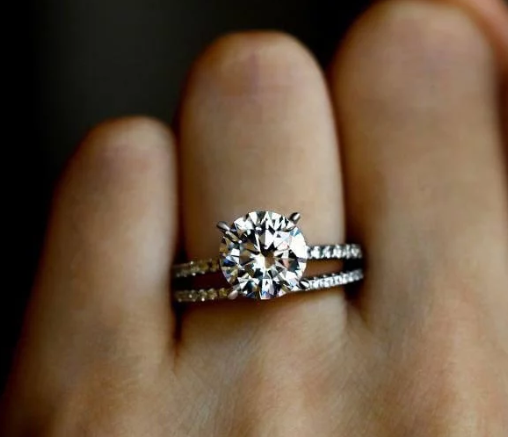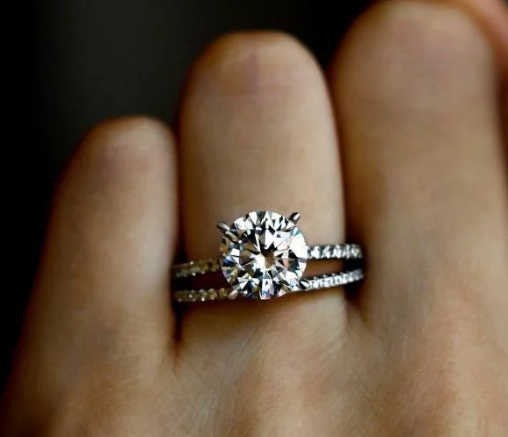 When shopping for an engagement ring, you've got a lot on your mind…the shape of the diamond, the style of the setting, and probably your genius plans for the proposal, too. The wedding band might be the furthest thing from your mind at this point. But the bride's wedding band is much more than just a detail. After all, it's the only ring you'll actually place on her finger during your wedding vows.
It's smart to consider the full wedding set when picking out an engagement ring. There are several different ways to think about wedding sets, but here are the main three.
Perfect Match
Many designers offer wedding sets where the engagement ring and wedding ring have been designed together. They're usually crafted from the same metal, and with the same finish or filigree. They may stack perfectly, or be designed to weave or layer together in an usual and stunning way. Wedding sets can either be sold separately or together for one fixed price.
What's to love? The look of a perfectly matching set is very appealing to many brides. You may like the idea of the two rings stacking together without any empty space in between. And having been made for each other, you'll be sure that the designer has highlighted the most important part of the entire look—the center gemstone.
What's not to love? When purchasing a wedding set, you may miss the feeling of personalization you get when choosing the rings individually. Or the bride may fall head-over-heels in love with an engagement ring that doesn't come with a perfectly matching band. Finally, there is more flexibility in both style and price when choosing the band separately.
Complementary Match
When an engagement ring is purchased that does not include a matching band, you've got the freedom (and the challenge) to pick out a wedding band to go with it. A good complementary match will flatter the engagement ring, giving you a pairing that is both pretty and distinctive.
What's to love? When you chose a complimentary match, the outcome can be distinctly you. And you don't have to wonder if your pairing looks good together. You're in good hands at Italo's! We'll show you several options in several price ranges, any of which will be stunning.
What's not to love? Since they aren't designed together, these wedding sets won't offer that fully cohesive aesthetic that a perfect match set has. Or, maybe having too many choices is overwhelming for you. Totally understandable!
Mismatch
A hot trend in fashion jewelry, the mismatched look is beginning to trickle over into the world of bridal rings. Mismatched sets are often different metals, such as a white gold engagement ring paired with a rose gold band, and with differing designs, shapes, textures, and widths. The purpose of a mismatched set is to have an engagement ring and wedding band that are as different from each other as possible.
What's to love? A mismatched wedding band and engagement ring can be as unique as you want them to be. Open cuff band and silhouette ring? Sure! Vintage styles mixed with smooth channel settings? Go for it! Anything is possible, and you can guarantee your look will not compare to anyone else's.
What's not to love? The mismatch is certainly unconventional, which may beg the question: is this something I'll love forever? You most certainly may, but it's a big decision, and worth spending some time thinking about.
No matter which route you take, Italo's has the rings for you. We can't wait to show you our full selection of wedding ring engagement ring set. Stop by our store or schedule an appointment with us today.