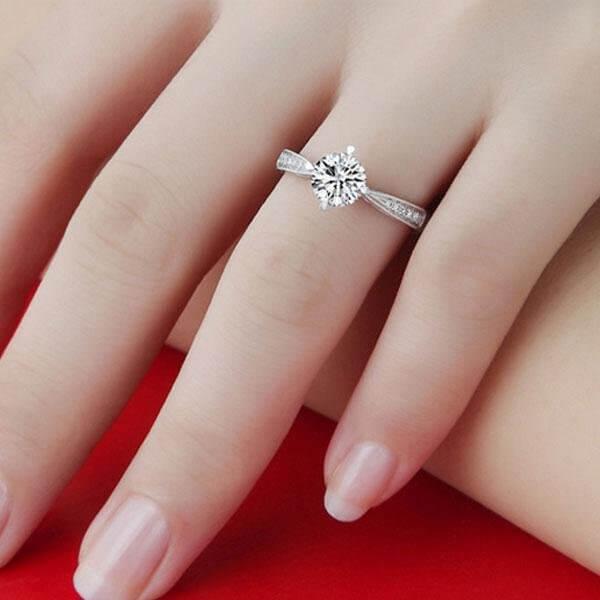 Scared of getting ripped off? Don't want to waste your money? Confused by all the choices? Contact us.
Bottom Line Recommendation: Choosing the best engagement rings comes down to selecting a brilliant diamond along with a setting that matches your personal style. We suggest seeking a high-quality cut for your diamond, as this characteristic impacts a diamond's beauty more than anything else. With the right cut, both a .9 Carat Round Brilliant in a solitaire gold setting and a 1.5 Carat Round Brilliant in a white gold micropavé setting make for a stunning round cut engagement rings. Your diamond's shape, setting metal, style and other features can be selected using tips from our all-inclusive guide below.
CHOOSING THE PERFECT ENGAGEMENT RING
The style of your classic white sapphier engagement ring largely depends on the type of setting you select.
Here are the top 10 best engagement rings settings to help with your decision.
1. Solitaire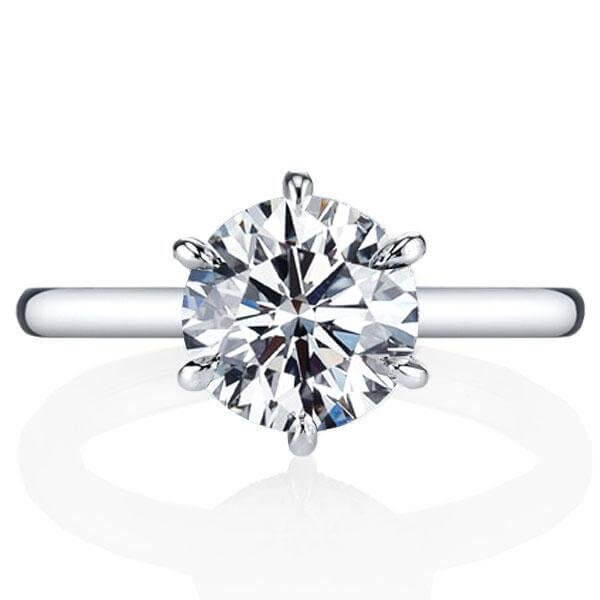 Solitaire settings are ring designs with a singular diamond or stone in the center. The solitaire is a classic engagement ring that's been around for years. It complements wearers who have a more simple or crisp personal style.
Solitaire Engagement Ring Example: A 0.9 Carat Round in a solitaire setting made of 925 sterling silver.
2. Bezel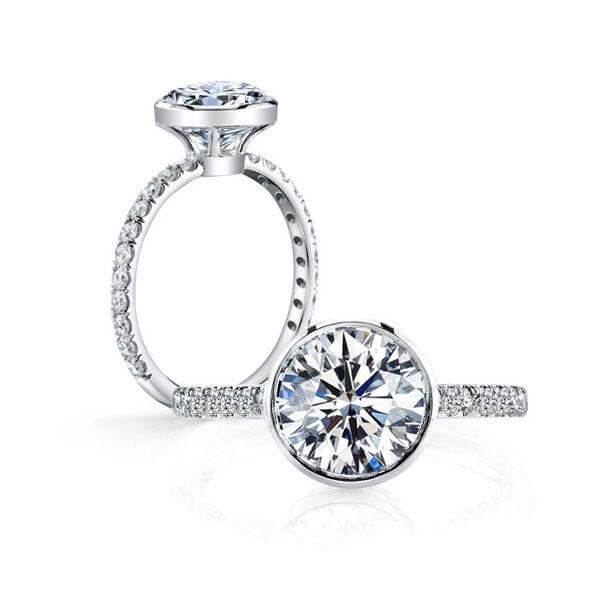 This best popular engagement ring setting offers a modern look without sacrificing on function. In a bezel setting, the diamond is held securely with metal that encircles the center stone—rather than it being held by prongs.
Bezel Engagement Ring Example: The bezel setting here showcases how this setting works well for an active lifestyle.
3. Channel Set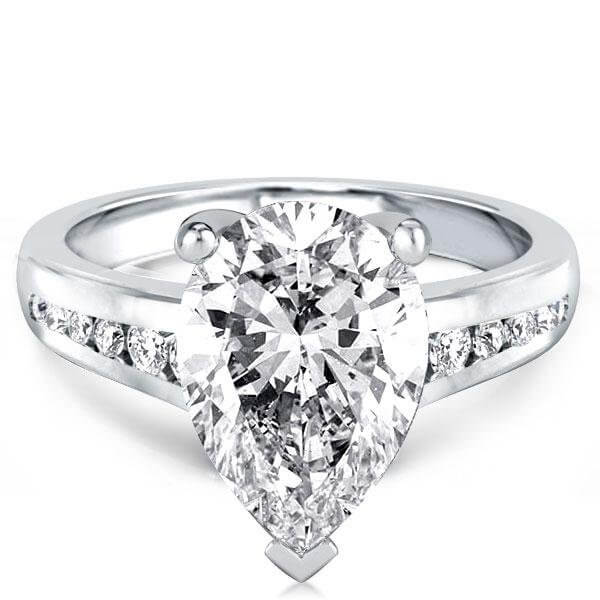 A channel set is similar to a pavé setting but uses thicker metal to secure the smaller diamonds along the ring's band. Because there are no prongs holding the stones, this setting is a solid snag-free design. Channel settings may or may not have center stones.
Channel Set Engagement Ring Example: See this channel set ring that holds a center diamond.
4. Three-Stone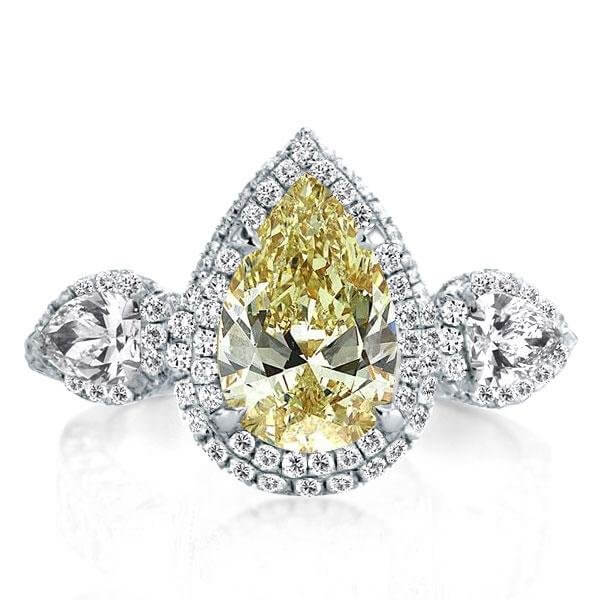 Indicated by its name, three diamonds or gemstones are set closely together in this type of setting. The stones may be the same size or the center stone may be the largest one. Popular Diamond Shapes for the three-stone setting include the Princess Cut and the Round Brilliant Cut.
Three Stone Engagement Ring Example: This three-stone setting uses colored stones for the side ones, while this setting uses baguette diamonds for the adjacent stones.
5. Tension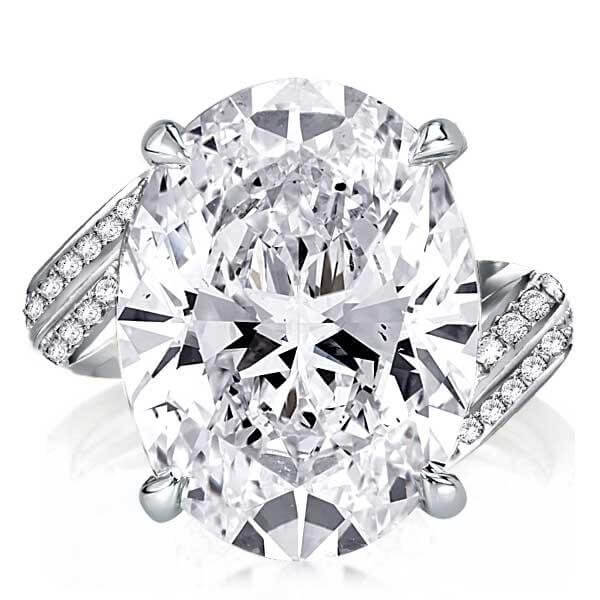 The tension setting uses pressure from the metal band to secure the diamond. The diamond appears suspended between the two ends of the ring.
Tension Engagement Ring Example: This 925 ster5ling silver setting holds the diamond firmly in place while offering a modern, stylish look.
6. Vintage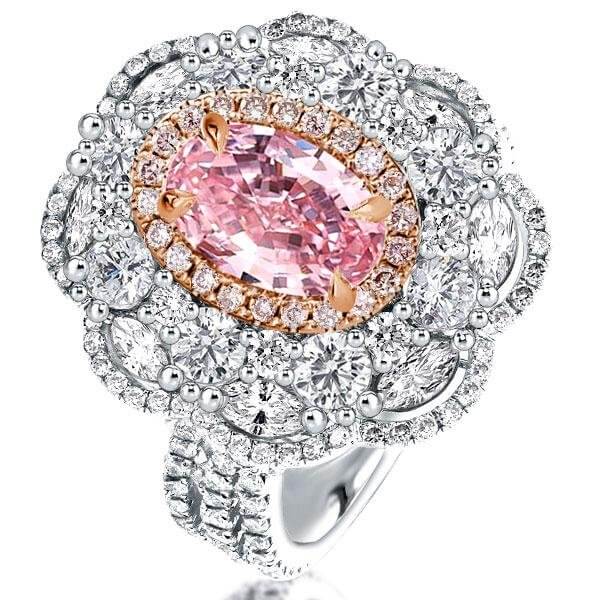 A range of vintage settings mirror the styles of the Edwardian, Victorian and Art Deco time periods. These settings tend to feature detailed work and are quite intricate in nature.
Vintage Engagement Ring Example: Here is a beautiful ring with a white gold vintage setting.
7. Halo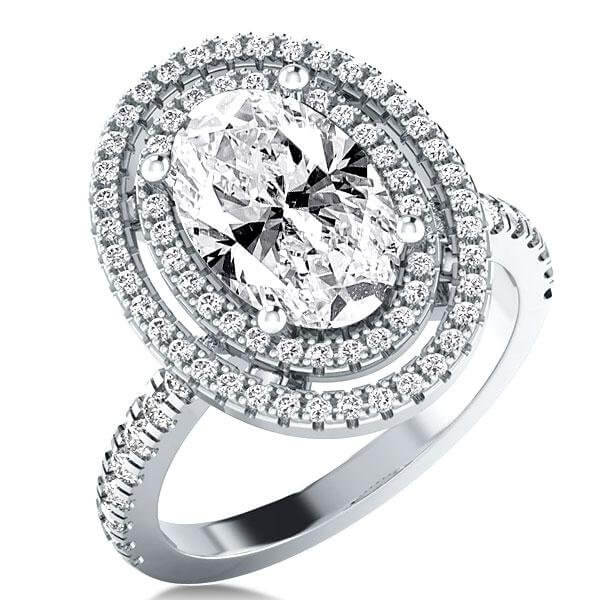 In a concentric circle or square shape, smaller diamonds surround the center stone in a halo setting. The center stone can appear larger in these settings, offering a way to save on diamond budget.
Halo Engagement Ring Example: This Round Cut engagement ring displays how a halo setting can enhance the center stone.
8. Pavé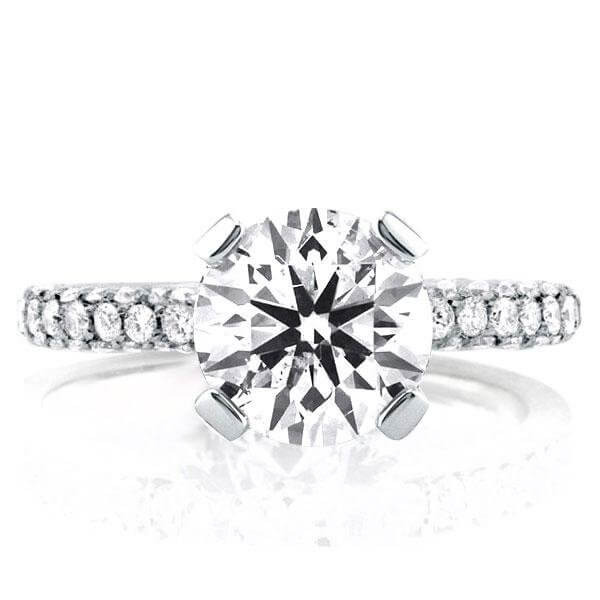 Settings with several small diamonds embedded around the band are considered pavé. Some pavé settings consist of only small diamonds, while others have larger center stones as well.
Micro Pave Engagement Ring Example: Here is a 925 sterling silver pavé setting with a center sapphier.
9. Cluster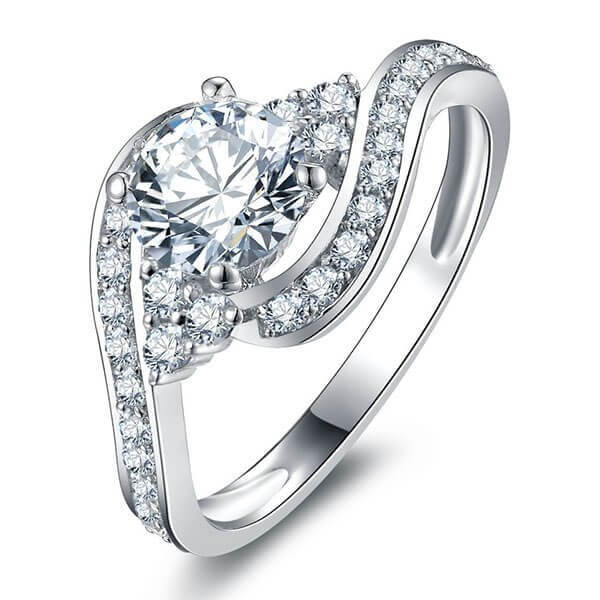 In a cluster setting, smaller diamonds are placed tightly together to appear as a larger diamond. Clusters may contain a large center stone or only smaller stones.
Cluster Engagement Ring Example: This cluster ring gives the impression of a larger center stone.
10. Cathedral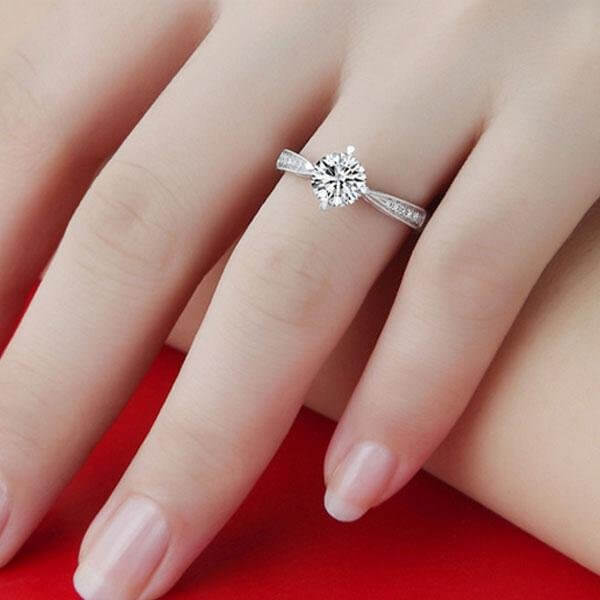 An elegant setting, a cathedral design is meant to resemble the arches of a cathedral. The diamond is mounted with arches above the shank.
Cathedral Engagement Ring Example: This cathedral setting accentuates and highlights the center diamond.
BEST PLACE TO BUY ENGAGEMENT RINGS
Purchasing an engagement ring is a special and exciting time. Choosing a reliable and reputable dealer will make the process smoother and less stressful—plus, you'll probably end up with a higher quality ring at a better price point.
If you'd like assistance in selecting the best engagement ring or diamond for the one you love, contact us today.