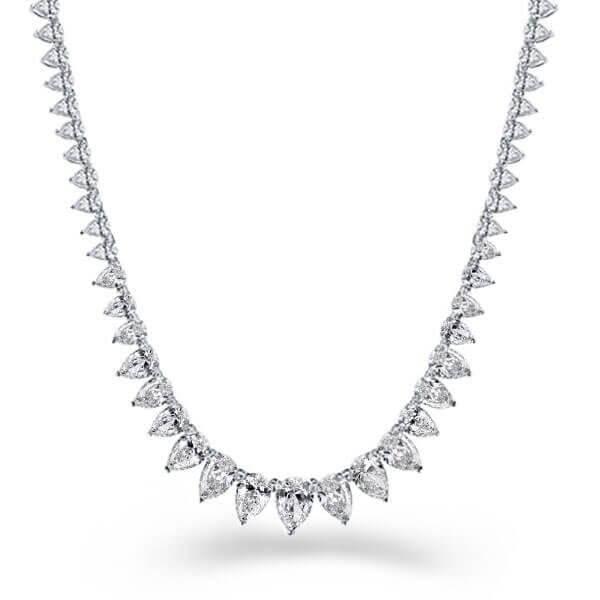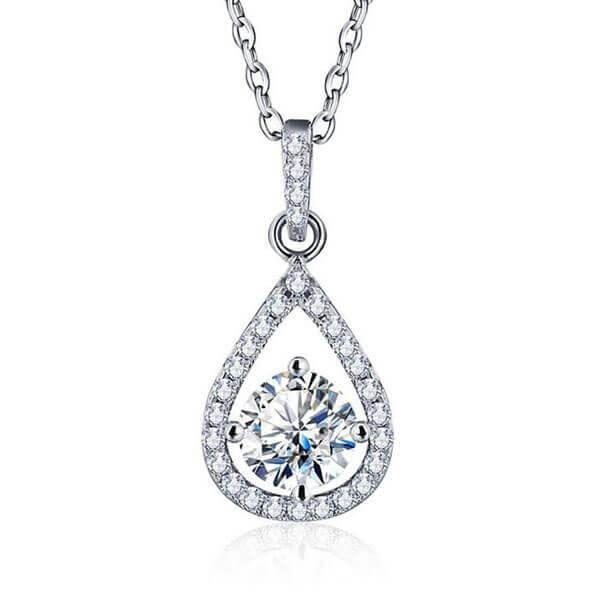 A delicate strand of pearls is regarded as the safe, conservative bridal necklace tradition. However, not every bride loves tradition. The bride that wants to make a stunning style statement on her wedding day may select a more glamorous, bolder bridal accessory—such as a pear shape necklace.
Forget subtle and conservative. When worn as the central focus, pear-shaped diamonds accent the collarbone, help elongate the neck and create a stunning accessory to complement any gown.
Classically, Perfectly Pear
How a bride wears a pear shape necklace really depends on the dress design—or, rather, the dress neckline. To channel a delicate conservative look while wearing a dress that features a sweetheart neckline, select a demure pear-shaped necklace.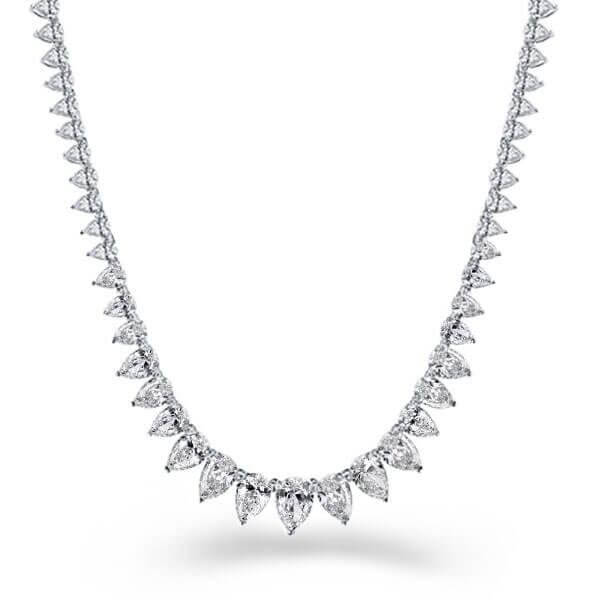 Instead, select a pear shape necklace that features a smaller pear diamond. The idea is to draw the eye to the neck, without making an ostentatious statement. Sweetheart necklines already accentuate the bust, so opting for a delicate necklace keeps the design tasteful and conservative.
Gowns that are designed with a bateau neckline offer more coverage around the bust. To add sparkle around the neckline, choose a pendant with a short chain so the diamond hits the base of the neck right at the throat. This is not a true choker, but very close in design.
No matter how large the carat size of the pear, avoid a look of overlap between the dress neckline and the pendant. The diamond should not lie against fabric—only the skin. When choosing larger carat diamonds or pears with double halos for a larger effect, select a heavier chain to accommodate the weight of the pear shape necklace and create a balanced look.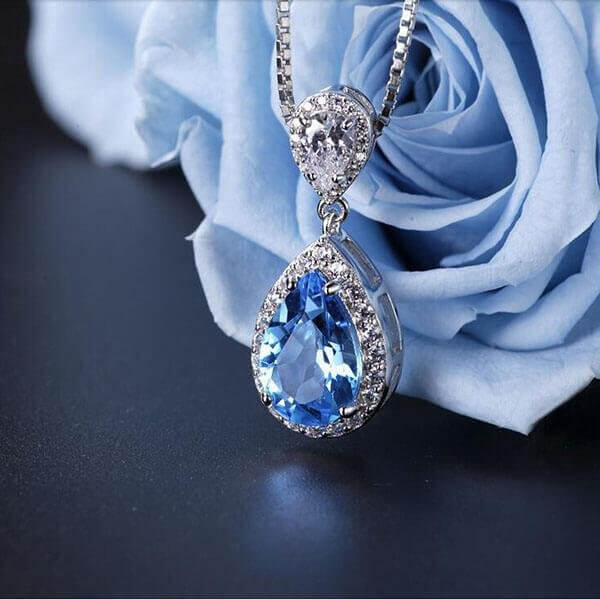 Also remember that diamonds are classic and classy. Even if the dress is heavily dazzled and full of beadwork, the right diamond necklace will still look stylish and elegant. Bold doesn't mean gaudy. Play around with different looks and carat sizes to find the necklace that elevates your dress and your style.
No matter what pear shape necklace you choose to wear on your wedding day, the classic tear-drop design of the pear is the perfect way to take the look to the next level. Pick a pear for the perfect wedding necklace, adding bridal beauty that's just ripe with Brilliance!