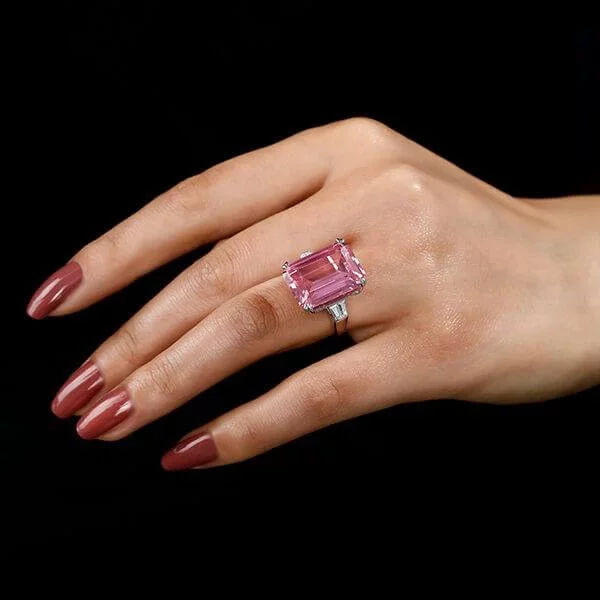 Must-Ask Questions When You're Buying Engagement Rings for women
Your engagement ring is one of the most important purchases you'll ever make. Your spouse will wear it on her left hand every day for the rest of their lives. It's a beautiful and deeply meaningful symbol of the love you share.
The key is knowing the right questions to ask when buying an engagement ring. By asking the right questions, you can help narrow your options down to the ring that's perfect for both you and your significant other. By getting answers to these important questions, you'll have all the information you need to know when to buy the perfect engagement ring.
It doesn't matter whether you're going by yourself to shop for a ring to surprise your future spouse or the two of you are going together. By using this list of questions as a check list or a cheat sheet, you can stop stressing and start having fun on your ring shopping adventure!
Questions to Ask Before Shopping
What Is Your Budget?
Keep in mind that an engagement ring is an investment your spouse will wear for decades to come. Many people pass on their engagement ring to their children and grandchildren. It's a powerful representation of the love that endures through the generations, connecting families and helping welcome new family members — and it's worth the extra money to invest in something that will stand the test of time.
However, everyone has their own financial situation. Maybe your budget is a little tight, or maybe you'd prefer to put that money towards buying your first house or going on a romantic honeymoon in some exotic location. At the end of the day, this is a very personal decision that only you — or you and your beloved together — can make. Everyone has a different lifestyle with their own priorities. Regardless of what you decide, this is a decision you should make before you begin shopping. Once you know what your budget is, this will help you to immediately rule certain rings out of the running as you narrow your search down to only the ones in your price range.
What Style Does She Want?
Once you've got a budget settled, this is the next most important question on your list. Engagement rings come in an enormous variety of styles. Some are large, some are small, some are gold, some are platinum and most have diamonds, but some use other stones. The list goes on.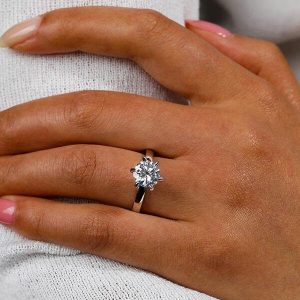 Here are some quick tips for surprise proposals:
Pay attention: Keep your ears open for anything she may mention in passing about rings and jewelry.
Ask her friends: Many women frequently discuss what styles of rings they like with one another. If you feel comfortable asking, her close friends may very well have some insight.
Browse her Pinterest: Plenty of women use Pinterest as a place to compile ideas for their future weddings. While you may not be able to find the exact ring she likes, you might be able to get a feel for the styles she prefers.
Look at what she wears now: Does she love to dress up and wear delicate, fine jewelry? Does she frequently wear things that evoke a more vintage, old-fashioned vibe? Does she only ever wear very plain, simple jewelry? Or does she have a bold, expressive sense of style? By taking her everyday style into account, you might be able to get some clues to her ring preferences.
Consider her occupation: If she has an outdoor, active job where fancy jewelry would be impractical, you might want to opt for a simple design. On the other hand, if she works in an office, you probably have the license to go for something a little flashier.
What Is Her Ring Size?
This isn't a top priority for planning purposes, but it's still crucial to know when you get down to the fine details of ring buying. Again, if your significant other is coming with you to go shopping, this won't be a problem. If you're trying to surprise her, however, you'll have to do a bit of detective work.
You could try asking her friends or family, although not many friends will know this about one another. Many women don't even know their ring size. One tried-and-true method that we recommend is secretly borrowing one of her rings, one you've seen her wear on her ring finger. It helps if it's one she doesn't often wear, so she might not notice it's missing. Our trained staff can measure the size of the ring with our special tools. Just remember to put her ring back where you found it when you're done! If you know her finger size, it will be better!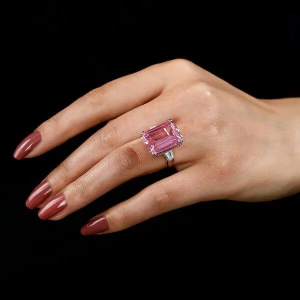 When Are You Going to Propose?
This might seem unrelated, but it's an important thing to decide. The reason for this is that some rings are available to be bought right on the spot. Some need to be ordered and will take time to arrive. Others might need to be custom-made, especially if the ring size is exceptionally small or large.
If you know you're going to propose in two weeks, it might be best to avoid selecting a ring that will take eight weeks to make.
What Are the Four C's?
This is some basic engagement ring terminology that will help you be more knowledgeable before you begin shopping. The 4 C's stand for Color, Clarity, Cut and Carat, and are four different scales on which all diamonds are ranked and classified.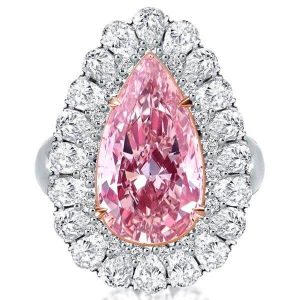 By doing a little brushing up on these basic terms, you can be better prepared to understand what the jeweler is talking about when they begin to use these terms.
Questions to Ask When Shopping
6. Is Engraving an Option?
If you're interested in getting something engraved on the inside or outside of your ring band, you'll want to ask about that. Some jewelers do it, others don't. If engraving is a must-have for you, it might be best to include this in the research you do about jewelers before you go shopping.
7. What is the Exchange Policy?
This is a question that you might rather not think about, but it's still an important one. Whatever your reason might be for needing to return or exchange the ring, it's important to know upfront what the jeweler's policy on this is. There's nothing worse than realizing you'll need to return the ring but discovering your jeweler has a no-return policy.
Even if you think you'll never need it, this is an important thing to be informed about. Better to have the knowledge and never need it than vice versa.
8. Will They Do the warranty?
Whether you choose to be conservative or extravagant with your diamond ring, it still represents a significant investment. Aside from the money invested in it, it also represents a hugely important emotional value.
Because of this, it's important to insure your engagement ring right away. To do this, you'll require an appraisal to estimate how much the ring is worth. Some jewelers may do this, others may not. It's best to ask to be sure.
Time to Start Shopping
By asking these questions, you can be sure to get the most out of your engagement ring shopping process. Don't be afraid to write these items down and use them as a checklist as you are out shopping. This is an important process, and it's worth a little extra time and effort to get it right.
As you take these steps forward, we hope you'll consider us at Italojewelry. We offer a large variety of cuts and styles as well as plenty of custom options. Not only that, but we're committed to treating you like a member of our family. Contact us at any time on our website to set up an appointment or email us: [email protected]