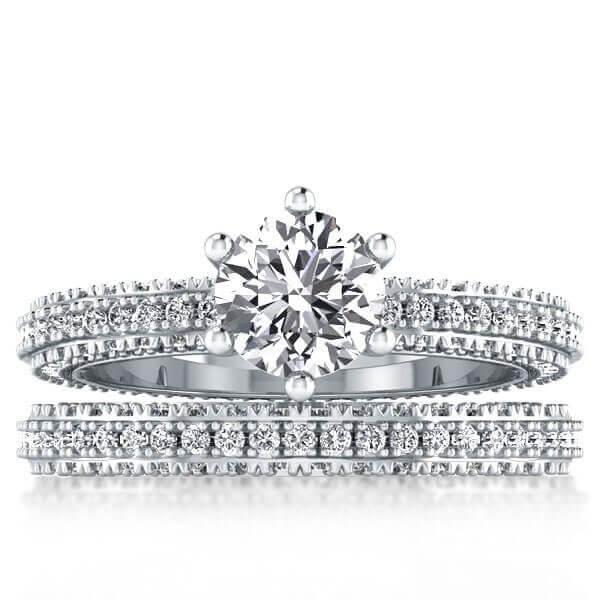 Eternity wedding set give the ultimate meaning to perfect wedding bands. As a symbol of undying love, the eternity wedding band has been a popular choice for couples for several decades. Once given on anniversaries or after the birth of a child, the eternity wedding band has risen to become a trusted favorite for those couples looking for a unique wedding band that perfectly symbolizes their cherished union.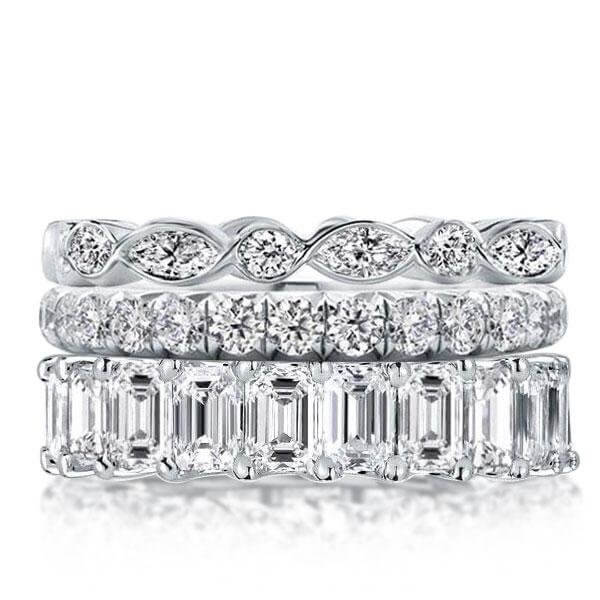 Because eternity rings are meant to symbolize the eternal love between you and your sweetheart, they stand out amongst the crowd of wedding bands and diamond engagement rings. Full or traditional eternity wedding bands will have diamonds or precious stones set in place around the entirety of the ring; since the stones have no apparent beginning or end, it's the perfect wedding band to let your sweetheart know just how much she means to you. However, these kinds of eternity wedding bands tend to be thicker than other types of rings, which some ring wearers might find uncomfortable. Additionally, most eternity wedding bands are custom sized, which is why many jewelers don't carry a wide range in stock – therefore, if you're looking to purchase an eternity wedding set, expect it to be a bit pricier than other high-quality wedding bands.
For an affordable wedding ring that will surely please the most discerning of tastes, the eternity wedding set also comes in a "half" setting, which means that only half of the face of the wedding band contains diamonds or precious stones. This makes it much easier for jewelers to customize sizes and shapes, and also makes for much more comfortable wearing. In fact, half eternity wedding bands tend to be a more popular choice among engaged couples than "true" wedding bands!
No matter what type of eternity wedding set you choose, caring for your ring will help it to retain its brilliant and luxurious shine without disturbing the setting of the diamonds. Therefore, it's recommended to skip at-home cleaning in favor of the services of a professional jeweler.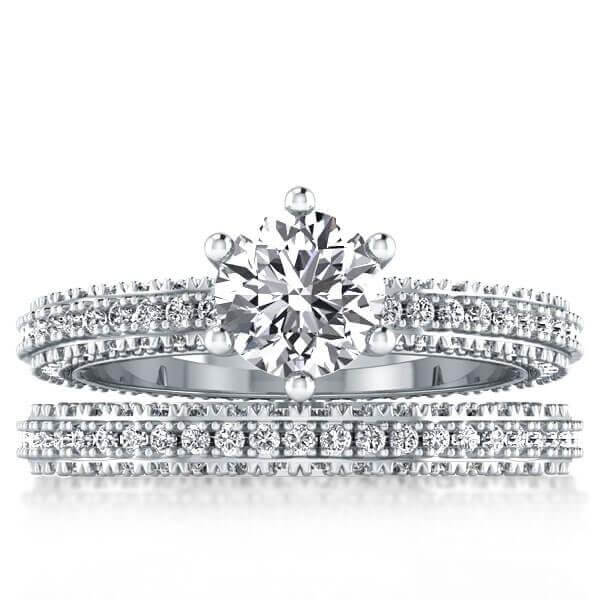 Round cut diamonds are the most traditional – and popular – choice for stones, with ideal settings ranging from prong and channel settings. If you're considering showing your sweetheart just how much you love her with a gorgeous eternity wedding set, a platinum band will highlight the clarity of the diamonds without detracting from their brilliance. White gold can also be used as a budget-conscious yet comparatively luxurious alternative.
Eternity wedding set can often vary in price, depending on the type of stone size and the setting desired. No matter what type of setting you choose for your sweetheart, an eternity wedding band symbolizes the ultimate promise to love, honor and cherish each other for the rest of your life together.