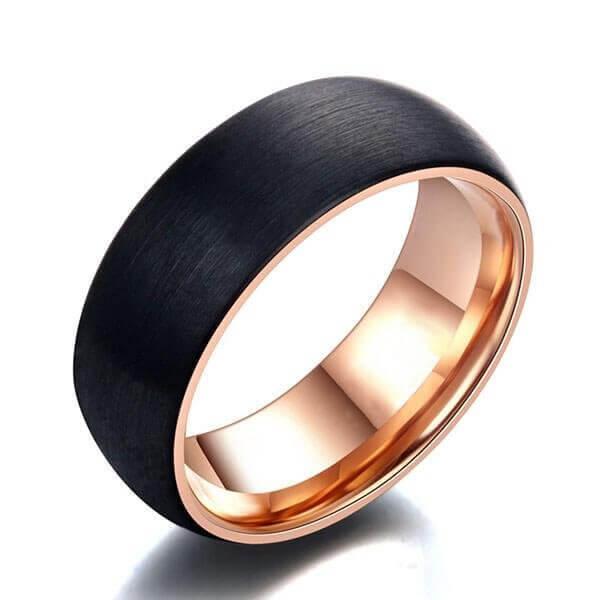 Nothing compares to saying "I do" on your wedding day, sharing the first dance with your new husband, and starting your new life together. These are moments you both will remember forever. The perfect way to acknowledge and symbolize your everlasting love is with a ring that is as long-lasting as your marriage. And yet, one of the hardest things is finding a ring for your groom! Titanium manly wedding bands might be exactly what you're looking for. This type of ring is becoming more popular amongst men because of its robust and indestructible properties, lenient comfort, and valiant characteristics.
Today's post will explore all things titanium! We will discuss advantages and disadvantages of purchasing titanium rings, the kinds of men who favor titanium bands, and share a few of our favorite rings from our titanium collection.
What is titanium?
Titanium is a chemical element found on the periodic table that is said to be the 7th most abundant element found on earth. Named after the Titans, Greek Gods of myth, this ubiquitous element can be found in igneous rocks, supernovas (collapsing stars), and even the sun and the moon! In the world of medicine, titanium can now serve as implants to replace or stabilize broken bones. Talk about a sturdy ring! If your guy is looking for a manly wedding ring that possesses impressive components, he should look no further than titanium.
What kinds of people does titanium suit best?
Titanium is gaining significant popularity, but what kind of individuals does titanium attract the most? Be sure to have your man-to-be check out titanium manly wedding bands if:
He doesn't like wearing jewelry - It's so lightweight it will feel as if he isn't wearing a thing!
He actively works with his hands, with water, or in harsh conditions.
He won't be proactive about cleaning and maintaining his ring (there's typically no urgent need with titanium!). He prefers contemporary, bold, and unique designs.
Different types of titanium wedding bands
Plain
Plain titanium manly wedding bands expose the purity that comes with simple beauty. Components such as grooves can be added to the edges to accentuate the sleek and polished look that titanium brings to this ring. Our 8mm Half Round Titanium Wedding Band proves that durable doesn't mean dull. With a comfort fit and half-round style, this titanium band glistens like no other.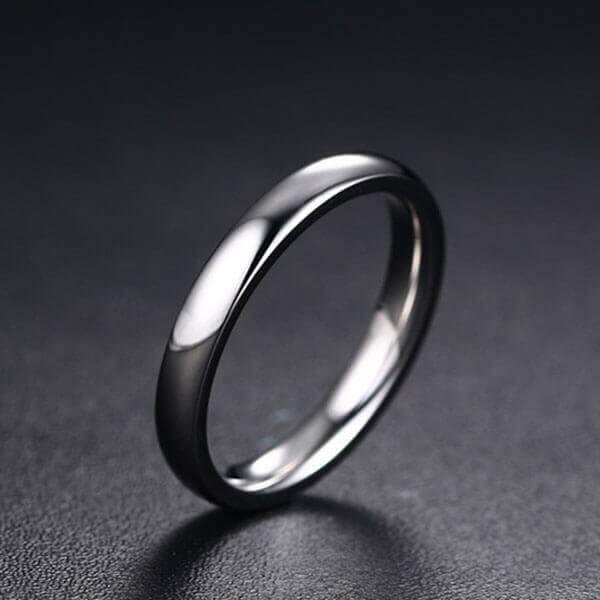 Black
Titanium is naturally a grayish, white color, but with high temperatures and the right tools, jewelers can craft black titanium manly wedding bands. Rings like our Plain 8mm Black Titanium Band embody the boldness of black plating and produce a highly chic look. The black plating highlights the gray square design, giving this ring a perfectly blended finish.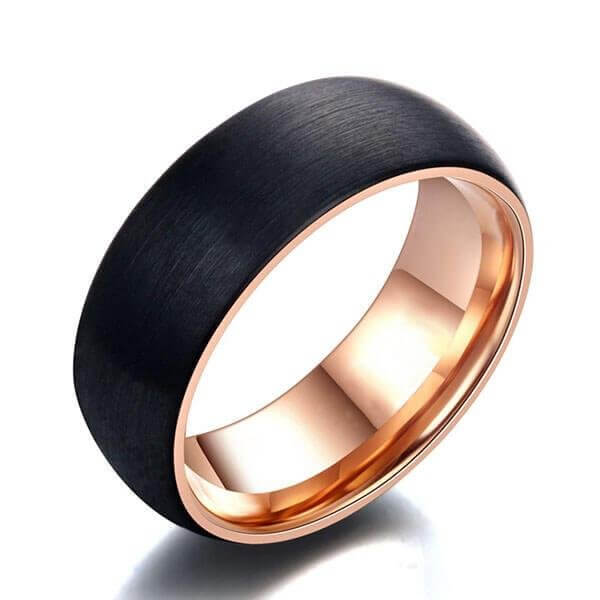 Color or Two-tone
If your partner is looking for a ring with more color and eccentricity, fear not! Interested in even more variation in color? Our White Chameleon manly Wedding Bands contains a thin bar of multicolored metallic material that completely steals the show.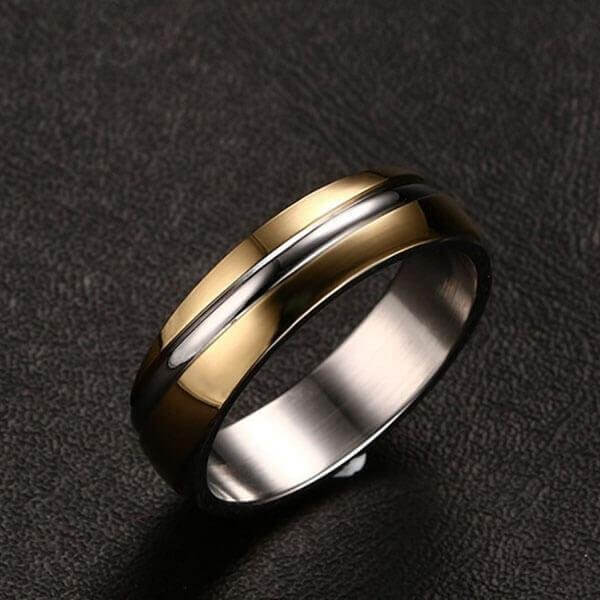 Or if he is looking for something a bit more traditional, yet still unique, go for the Stately Tile Manly Wedding Bands which has a tasteful combination of titanium and yellow gold. We have dozens of rings that showcase a tasteful combination of metals.
So what do you think? Is titanium what he's looking for? We have barely scratched the surface when it comes to the titanium rings we have available, so be sure to check out our online collection!
If he's interested in a specific titanium manly  wedding bands or wants to customize his own, contact us today!