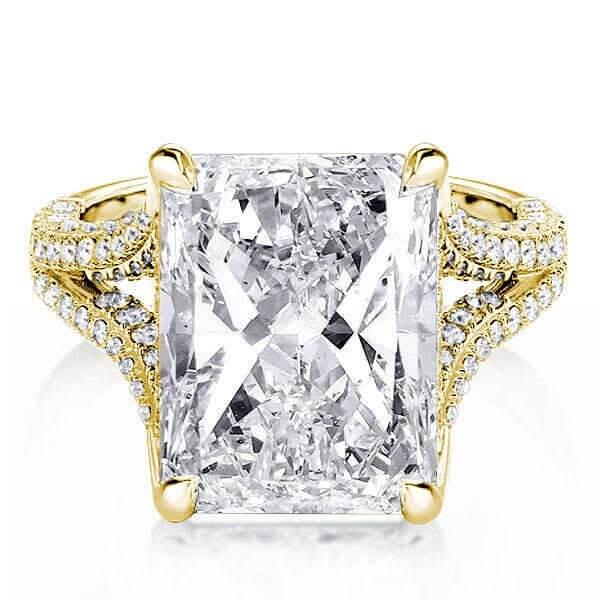 Split shank ring feature a unique bold design, where the band splits near the diamond, creating a cradle-like look around the center stone and often creating the illusion of two bands rather than one. Sometimes, these bands are adorned with accent gemstones, typically diamonds, and other times they are plain, depending on the discretion of the buyer. Some more complex engagement rings incorporate a different look, where the band is split more widely or the split extends farther around the ring, or even incorporating a twisted band shape.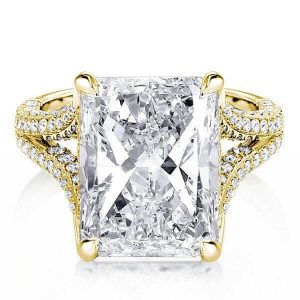 Despite being a more recent design trend, split shank ring has a timeless look, evoking the structure of classic vintage rings, and the lavish, luxurious jewelry of past eras. Because of this, choosing a split shank ring is a safer bet than most "trendy" rings you might see advertised. The style is lasting—it won't look dated even several years from now. In short, this style is timeless and fresh, avoiding two pitfalls of engagement rings (dated or trendy). This design creates a more complex look to draw the eye, and makes space for more accent diamonds—thus, a more sparkly ring. This style can also add more volume or height to the ring, increasing its glamour. A split shank ring can be paired with any diamond setting, depending on the desired style.
Additionally, elongated diamonds like oval or pear cuts really show off the split design, but any diamond setting can be incorporated into a split shank ring.
Top split shank ring
Pear shaped diamonds have undeniable romance. But that doesn't mean every yellow gold pear shaped engagement ring is the same style. Check our 10 of our favorites below. You'll see that even with this same diamond shape and metal combination, one ring can look dramatically different from the next. And that means you can find the perfect ring to suit your style.