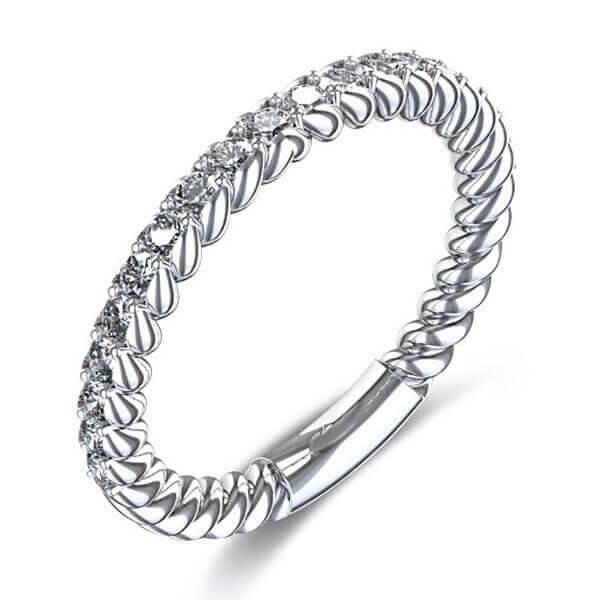 The starting price for a wedding ring made from precious metal would be one made from silver. Silver comes in four different standards of purity in the UK – 800, 925, 958, 999. Silver is a soft metal and it is alloyed so it is harder wearing. 925 or sterling silver is the most common metal as it has a high content of precious metal but is also hard wearing. 958 which is also known as Britannia silver is whiter than sterling silver and is softer as it contains more silver, so it will mark easier when it is worn. 800 was introduced more recently and allows manufacturers to provide silver jewellery for lower price points. It's not something I've worked with before. 999 is pure silver and isn't normally used in jewellery as it would be too soft.
Sometimes silver wedding bands are purchased for the groom or bride to wear at work so their gold or platinum band doesn't get as damaged through wear. Many nurses are asked to ensure their wedding rings don't have stones or grooves in them for reasons of hygiene so sometimes we make an identical version of their wedding ring in silver but without diamonds so it can be worn to work.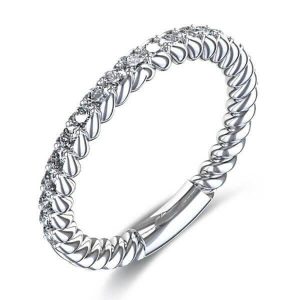 Some people can have skin allergies to metals and silver will tarnish and turn black if it comes in contact with ozone or hydrogen sulphide. The black tarnish can be cleaned off with a silver cloth or silver dip. Avoid wearing silver jewellery in swimming pools or hot tubs as the chemicals can turn the silver very black and it can be difficult, though not impossible to clean off. If you do this by accident, a professional jeweller should be able to restore your ring so it looks like new by polishing it.
Silver is alloyed with copper and some people find their finger turns green if they wear silver which while harmless, looks unpleasant. If you suffer from allergies to silver or want to avoid having to clean it, you can have it plated with rhodium, as most white gold is, which makes the ring hypoallergenic and stops it from tarnishing. Here is a picture of two silver rings. The warm white coloured ring on the left is silver and the cooler white colour on the right is silver rhodium plated.
If you want silver wedding bands that are special and different and that you can keep forever, silver can be an excellent choice. All of our designs can come in any metal. Get in touch to discuss how we can help you with rings for your special day or big anniversary.